War on Women Continues…all the way to the Supreme Court!
Reading the article will make your head spin. That is if your head happens to be, filled with common sense and not religious dogma. The anti-abortion protagonists want a fertilized egg to adhere to the uterus lining (against all odds) even though 50% to 80% of fertilized eggs never implant and are naturally aborted… (without any outside influence WHATSOEVER!)

After an egg is released, it has about a day to find a sperm to fertilize it. Sperm survive several days before losing their ability to join with an egg. But the union of egg and sperm is merely the first step: if a fertilized egg does not burrow into the lining of the uterus, there is no pregnancy. In fact, in an estimated 50 percent to as many as 80 percent of conceptions the fertilized egg fails to implant.
Christopher Hitchens hit the nail on the proverbial head when he realized what these anti-common sense folks are doing and that is… KEEPING THE POOR, POOR! thinkingblue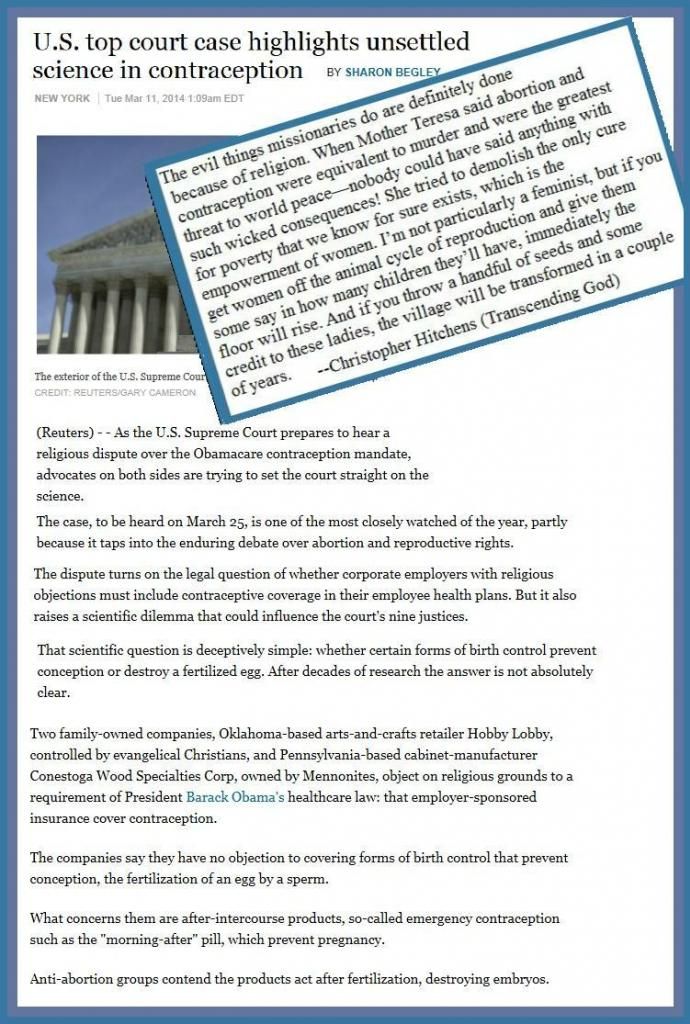 The Obama healthcare law, known as the Affordable Care Act, requires coverage of "contraceptive methods," but not drugs which cause an abortion – that is, end pregnancy.

Medical groups including the American College of Obstetricians and Gynecologists as well as federal health agencies say pregnancy begins with implantation. That's what allows James Trussell of Princeton University, an expert on reproductive health, to say that emergency contraception "won't cause an abortion in the legal and medical sense of the word."

That infuriates people who believe life and pregnancy begin with fertilization. "There is a segment of the medical field that says there isn't a human life until the baby has implanted," said Dr Kathleen Raviele, an ob-gyn in Tucker, Georgia, and spokeswoman for the Catholic Medical Association. The group supports Hobby Lobby and Conestoga. "You have two groups talking past each other."
MORE HERE: http://www.reuters.com/article/2014/03/11/us-
usa-court-contraception-analysis-idUSBREA2A07720140311
IN WITH THE NEW, OUT WITH THE OLD – GENERATION MILLENNIALS:

~~
Tell the GOP: Pregnant Women are Not "Hosts" Sign Petition
This just in: A Virginia State Senator just called pregnant women "hosts." He said, 'I'm not going to assume a right to kill it just because the child's host (some refer to them as mothers) doesn't want it."
And coming from the party who brought us "legitimate rape" and "binders full of women," the GOP has proven once again that they're just totally out of touch with women.
But this guy, Steve Martin, is only just saying what Republicans around the country think. That women are second class citizens who shouldn't be responsible for managing their own body.
EMILY's List wants to help more pro-choice Democratic women get elected to public office at all levels of government, from the Virginia State Senate, to the White House so women can be in charge of their own bodies and their health decisions. Add your name to join EMILY's List and Daily Kos to help stop the GOP.
Inquiring minds want to know… Who watches Fox News and their horrible pundits who make light of poor and hungry people? Who would vote for such ignorant and cruel leaders that are in agreement with them? Fox News is the Tip of the Iceberg; it's their viewers that are turning America ugly. thinkingblue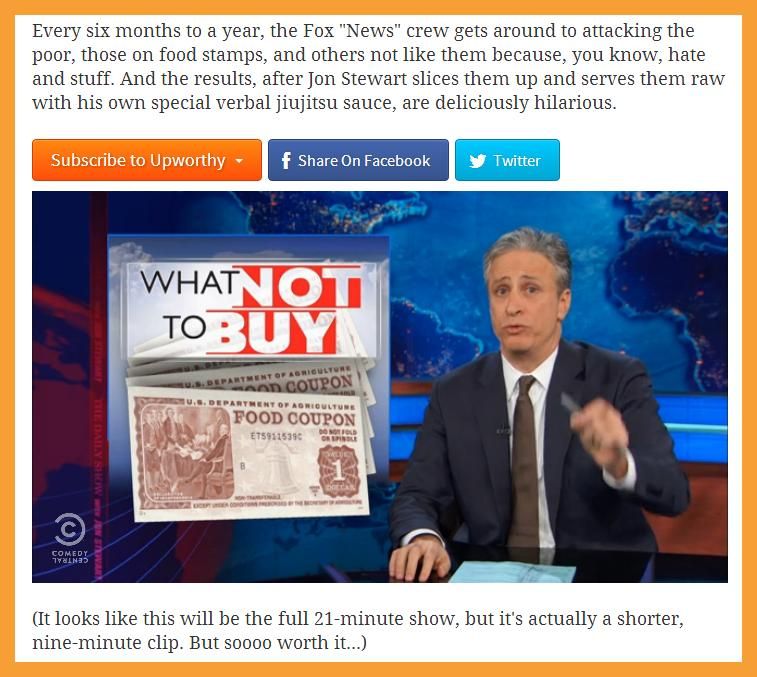 Insider Ted Cruz Embraces the Conservative Outcasts
This group of about 100, are the most delusional people that walk amongst us. From Birthers to Conspiracy theorists i.e. EMPact America (you know those people who refuse to see a fact for a fact and have to make up their own facts to satisfy their lack of real honest to goodness, knowledge) they were all there. Of course, Ted Cruz would stand in front of this frontal-lobe damaged group and spout out his own convoluted 'rationalizations',  to their loud thunderous applauds; that's the fuel that guides this narcissistic psychopath through existence. Even CPAC believes these folks to be bat-sh*t nuts, freakin' unbelievable!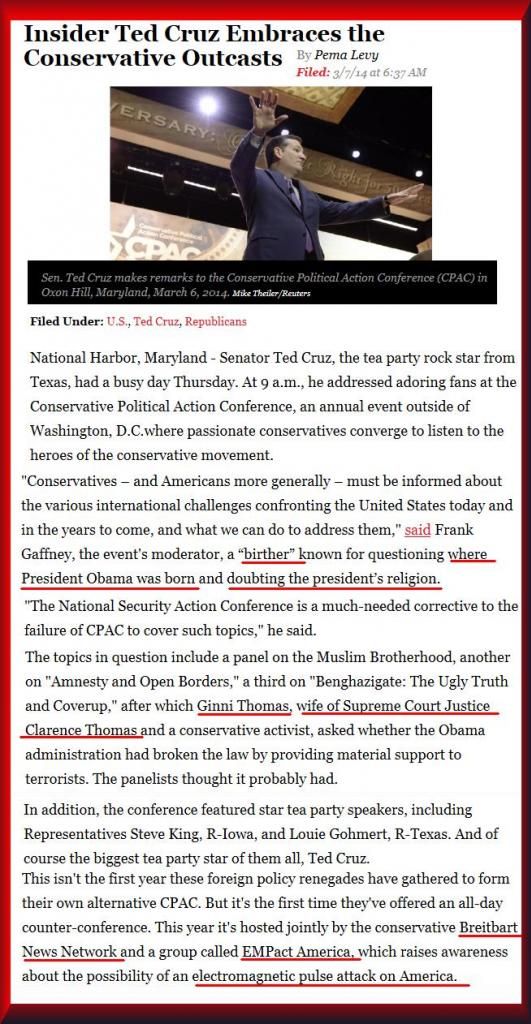 MORE HERE Insider Ted Cruz Embraces the Conservative Outcasts
GOP leaders preach the gospel at CPAC who will be their hopeful for 2016.
The executive function of the frontal lobes involve the ability to recognize future consequences resulting from current actions, to choose between good and bad actions (or better and best), override and suppress socially unacceptable responses, and determine similarities and differences between things or events.
The frontal lobes also play an important part in retaining longer term memories which are not task-based. These are often memories associated with emotions derived from input from the brain's limbic system. The frontal lobe modifies those emotions to generally fit socially acceptable norms.
http://en.wikipedia.org/wiki/Frontal_lobe
Electromagnetic pulse bombs of the Right Wing
Conspiracy Theories For Dummies
Ted Cruz Touting "YOU TELL THE TRUTH" at CPAC
Newspeak – TRUTH = LIES

He's hoping this time he will convince us that he really, truly means well and in the end his ideology of doing away with all safety-nets will help the poor get rich.
More Here: http://www.dailykos.com/story/

It Figures, Another Republican Rewards Bigotry.
The Big Questions:

WHY IS BIGOTRY TOLERATED?
WHY IS BIGOTRY PRAISED?
Once again, I'm blogging on how Republicans see fit to reward Bigotry. Just in the past week or so, we have seen a Republican running for Governor of Texas invite one of the ugliest supporter's of bigotry, Ted Nugent, to campaign with him…

MORE HERE: http://www.truthdig.com/report/item/deep_
in_the_dark_heart_of_texas_20140228
Now, we're being forced, to witness another Republican Governor give an award to a known bigot who uses GOD as a reason for his unapologetic racism and homophobia.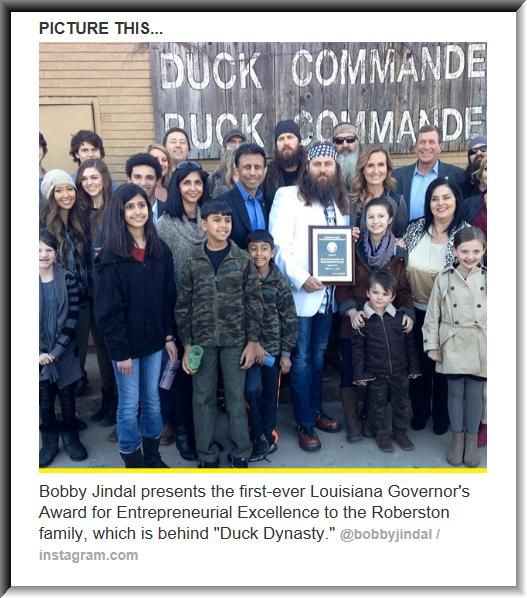 More Here: http://www.huffingtonpost.com/2013/12/19/bobby-jindal
-duck-dynasty_n_4472946.html
~~~~~~
I guess we Americans will never be able to escape our intolerant tendencies towards those who may look or act different from our own individual small-minded group, especially as long as there's a Rush Limbaugh and a Fox News doing nothing but promoting bigotry. thinkingblue
___________
Deja Vu All Over Again!
Duck Dynasty Proves Americans Are Drifting Further Away From The Art Of Critical Thought.
Nightly News, had the most delightful segment on what is happening in Colorado with the legalization of recreational marijuana. Hey, guess what? IT'S-A POSITIVE! Who'd a guessed?
thinkingblue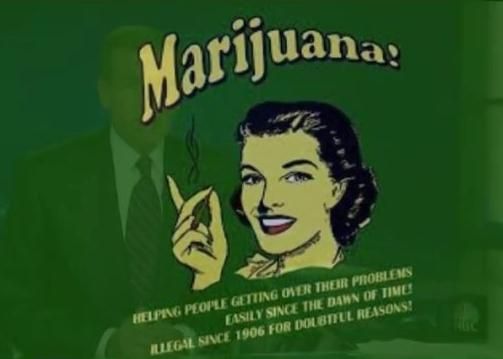 PS: Since the legalization of Recreational Marijuana the state of Colorado has created new businesses, more tax revenue and an overall feeling of wellbeing amongst the populous. Way To Go Colorado!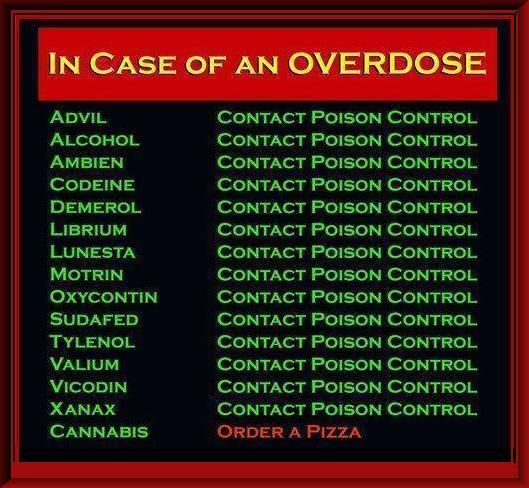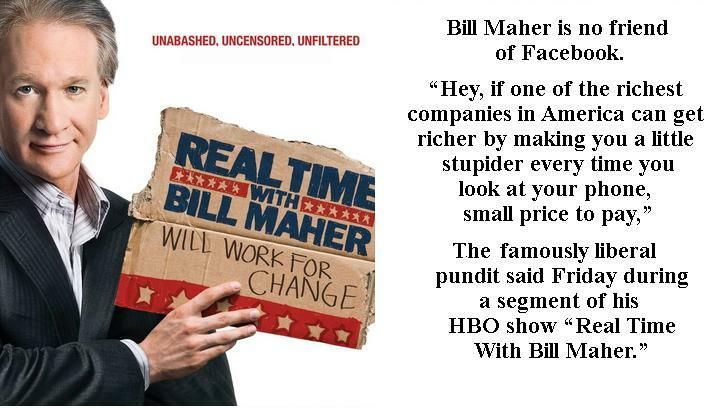 More Here: http://www.thewrap.com/bill-maher-rips-
facebook-calls-glenn-beck-matt-drudge-fox-cracker-trifecta/
Of course there would be a rebuttal to the Canadian study on how mammograms (can) do more harm than good… Big Bucks Are At Stake Here!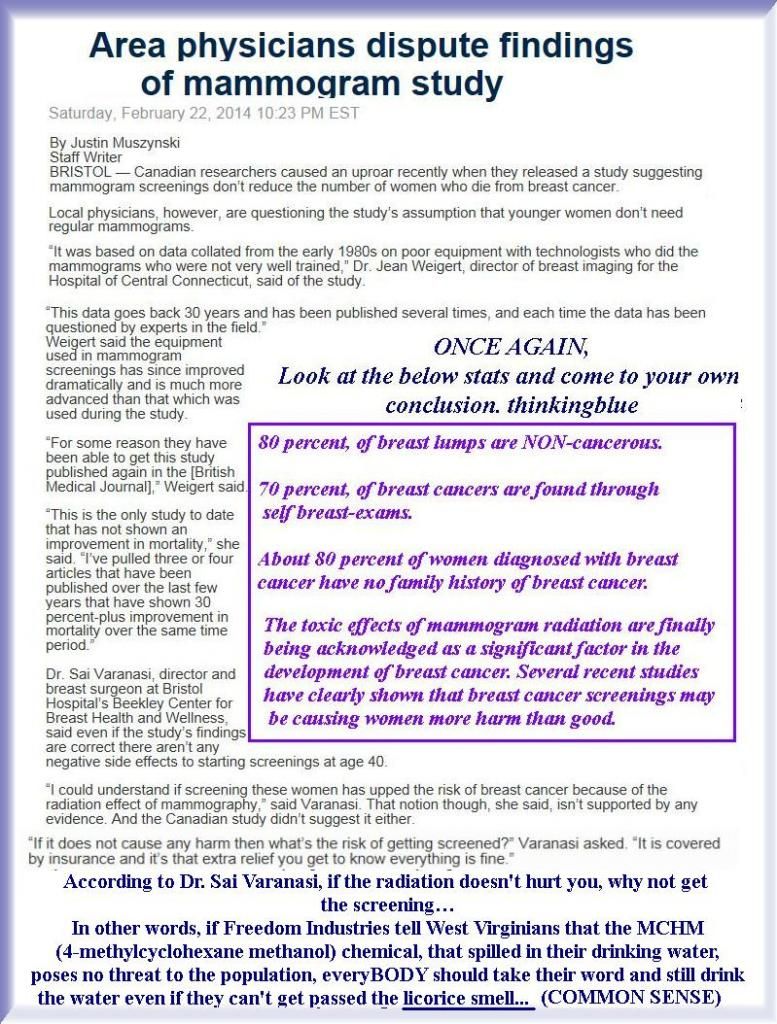 Mammograms More
Harm Than Good
Article Here: http://www.newbritainherald.com/articles
/2014/02/22/news/doc53096627e51fe540898602.txt
National Shame Finally Spotlighted
I feel ecstatic that this is finally happening but it also brings forth a feeling of sadness because it exposes the national bigotry our government had even during war. In addition, why did it take so long to rectify such a perverse overlook from leaders who send kids into battle? You might also wonder why, it takes an African American president to correct the intolerant mindset of generations past. Could it be, because he himself was/is a victim of racism that persists to this day, especially within the GOP (and its Tea Party offshoot)!thinkingblue
Photo slideshow here: http://www.washingtonpost.com/politics/overlooked
-medal-of-honor-recipients/2014/02/21/2d778dfe-9b2b-11e3
-ad71-e03637a299c0_gallery.html#photo=1
Wasted words on an Insensitive Republican Ass.
Sad these poignant words,from a truly honest humanist, are wasted on such a greedy, insensitive Republican Ass like Ann Coulter, who aligns herself with the equally greedy, insensitive Republican Ass, Ted Nugent! thinkingblue
The Psychopathic and Pure Hateful Rhetoric of Ted Nugent

Next Page »