ARCHIVES
Michael Dunn and George Zimmerman,
2 Murderers Not Found Guilty Of Murder
BREAKING NEWS, brought to you by the GOP, the NRA, ALEC and Angela Corey, Republican prosecutor (in) the Rick Scott administration. thethinkingblue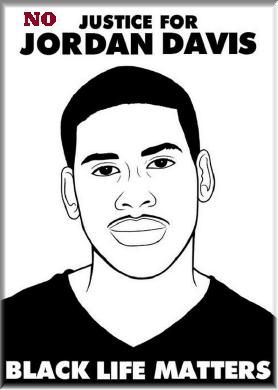 Michael Dunn, 47, has been found guilty of 3 counts of attempted second degree murder and one count of hurling a deadly missile. A mistrial was declared on the first-degree murder charge in the shooting death of 17-year old Jordan Davis.
The jury deliberated for four days and remained deadlocked on the 1st-degree murder charge and lesser charges, including second degree murder, manslaughter, justifiable homicide, or excusable homicide.
In essence, Dunn was found guilty of everything but murdering Jordan Davis.
As previously reported by NewsOne, Dunn, 47, gunned down Davis at a gas station in Jacksonville, Florida on November 23rd, 2012. Dunn claims that he felt threatened by the teen — who was sitting inside of an SUV with friends — and loud music coming from the vehicle, so he sprayed the vehicle with nine bullets before driving away, leaving Davis to die in a friend's arms.
None of the teens had weapons.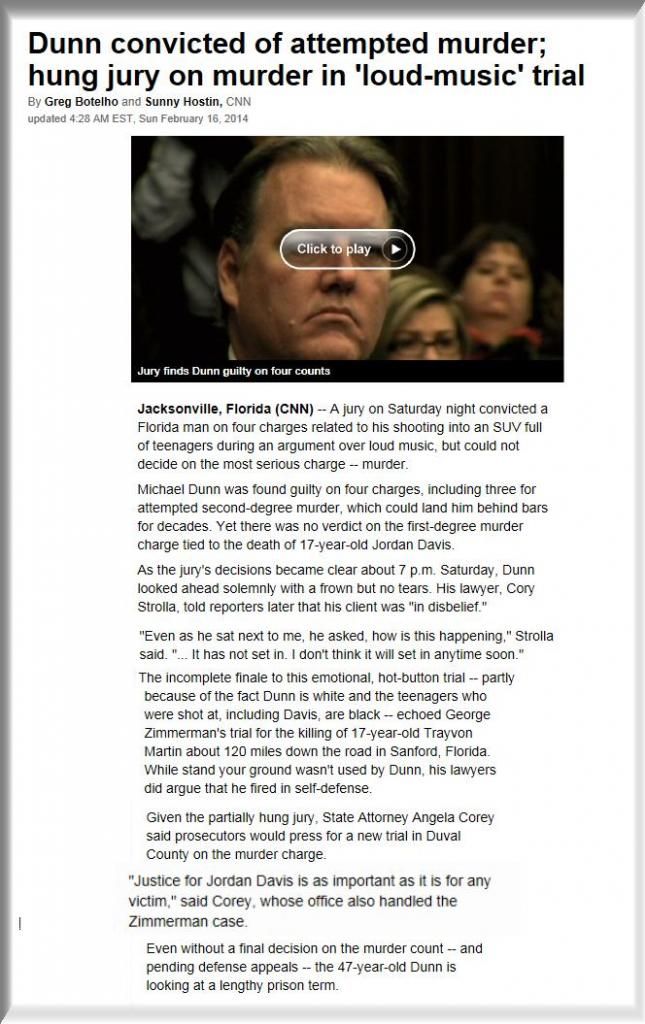 ARTICLE HERE: http://www.cnn.com/2014/02/15/justice/florida-loud-music-trial/

A LOOK BACK:


On March 22, 2012, Florida governor Rick Scott appointed Angela Corey as Special Prosecutor to investigate the killing of Trayvon Martin by George Zimmerman. On the evening of February 26, 2012 in Sanford, Florida, George Zimmerman, a 28 year-old neighborhood watch volunteer armed with a 9mm Kel-Tec pistol, shot to death Trayvon Martin, an unarmed 17 year-old, in a gated community. A few hours after the killing, the Sanford Police Department determined that there was no "probable cause" to arrest George Zimmerman, who claimed that he acted in self-defense. Martin was returning to the home of his father's fiancee after purchasing a can of iced tea and a bag of Skittles candy at a local convenience store. Zimmerman told police that Martin was the aggressor and photos of Zimmerman the night of the incident show him with a bloodied, broken nose and other injuries.
The decision by Sanford Police Chief Bill Lee and Seminole County State Attorney Norm Wolfinger not to arrest and charge Zimmerman with a crime triggered outrage fueled by social media including a petition on Change.org calling for his prosecution which garnered over 2.2 million signatures, the largest in Change.org's history. Following growing protests, including some 30,000 people in Sanford, Florida alone, as well as media coverage and engagement of the FBI, both police chief Bill Lee and state attorney Norm Wolfinger resigned from the investigation and state attorney Angela Corey took over. The case has fueled a national debate over racial profiling, gun control, institutional racism in law enforcement agencies, and the role of ALEC (American Legislative Exchange Council) in pushing for pro-gun laws like Florida's "Stand Your Ground" bill.
From Wiki: http://en.wikipedia.org/wiki/Angela_Corey
ARCHIVES
Look What Dropped In On Facebook Wall
Study and Remember These Faces
The GOP Afraid Of Gun Control?
Marketing's One Motivation - Sell,
Sell.The Right To Vote, A Long Hard Struggle.
Asteroid Close Encounter With Earth
Ted Nugent - A Real Piece of Work (shit)
Mayors Against Illegal Guns Bowl Ad
Common Sense Gun Laws of Japan
Violence Against Women Act Expires
Republican Hypocrisy Rides Again
Newtown Massacre of Little Children
Obama To Give The GOP A Lollipop?
GOP Acts Out The Terrible Two's .
The GOP's Hands Are Quite Busy
Strong Segregationist Strain in U.S
Lloyd Blankfein, Ebenezer Scrooge
>live without becoming an old jackass.
Read Agenda 21, Glenn Beck's novel?
Democratic Socialism Scare Ignorant People
Accomplishments of President Obama
Mitt Romney's Halloween Special
GOP Tea Party The American Taliban
Bruce Springsteen to Join Obama
Serious Reasons To Vote For Obama
$$ Mitt Romney Style $$
Hey Mitt, Can You Handle More Truth?
Mitt, A Dose Of Truth, Can You Handle It?
Scalia and His Cobweb Thinking
David Letterman: "Romney's Yellow!"
Is Romney's Brain About To Blow?
Creationism – The Study of Darkness
Romney's Success vs. Romney's Greed