ARCHIVES
9 Year Old Learns How To Shoot Uzi
Learns How To Kill.
Today's NRA mentality is that guns/lethal weapons are toys to be played with... without any respect whatsoever as to what they were manufactured for... KILLING! What a sad story…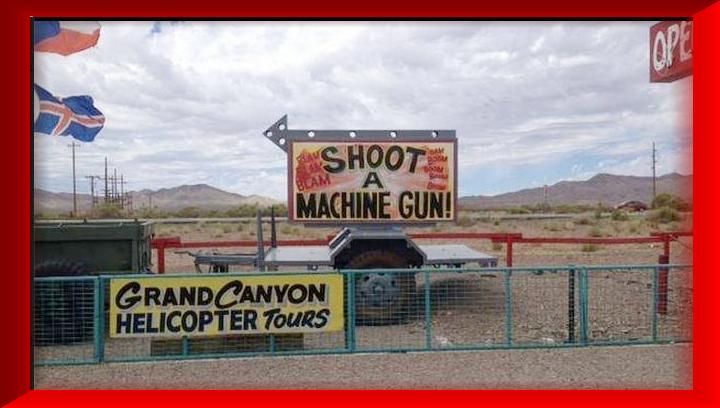 WARNING: SOME VIEWERS MAY FIND THE VIDEO BELOW DISTURBING.
9-year-old girl accidentally shoots instructor with Uzi
USA TODAY NETWORK Associated Press and NBC News, news source 11:01 p.m. EDT August 26, 2014

DOLAN SPRINGS, Ariz. -- A shooting range instructor in Arizona was accidentally shot and killed by a 9-year-old girl who was learning how to shoot an Uzi, authorities said on Tuesday.

Charles Vacca, 39, was teaching the girl how to use the automatic weapon on Monday morning at the Last Stop outdoor shooting range in White Hills, Arizona, when she pulled the trigger and the kickback caused the gun to lurch over her head, investigators said.

Vacca was hit by a stray bullet and airlifted to University Medical Center in Las Vegas, where he was pronounced dead late Monday. The girl was at the range with her parents at the time, but their names were not released.

Sam Scarmardo, the manager for the Last Stop's shooting range, told NBC News that "the establish practice at most shooting ranges is 8 years old and up with parental supervision."

He said Vacca was a "great guy, with a great sense of humor" and called him "very conscientious and very professional."

Scarmardo said that the range has never had a similar incident in over a decade of being open — "not even a scratch."

"I just ask everybody to pray for Charlie, and pray for the client, she's going to have a hard time," said Scarmardo.

The Arizona Department of Public Safety referred inquiries to the Bureau of Alcohol Tobacco and Firearms, which didn't return calls for comment.

Ronald Scott, a Phoenix-based firearms safety expert, said most instructors usually have their hands on guns when children are firing high-powered weapons. "You can't give a 9-year-old an Uzi and expect her to control it," Scott told the Associated Press.


ARCHIVES
Rand Paul To Make Abortions UNSAFE!
Tea Party History 101 - 2 Easy Lessons
Trayvon Martin Case Proves Bigotry
Not Human! Picture of the Day.
Bring Back Paula Deen Facebook
Trayvon Martin Would Be Alive Today
Paul Ryan Health Care Destroyed
GOP to See Poor Children Go Hungry.
Impeachment? It's Silly to George Will
GOP Tea Party Cretins Jump The Shark!
USA Leads In 1st Day Deaths for Newborns
Tea Party NRA's Dance On Graves Victims
Enlightenment Led To The Holocaust
Coming Out To Higher Consciousness
Fanaticism Winner - Common Sense Loser!
Look What Dropped In On Facebook Wall
Study and Remember These Faces
The GOP Afraid Of Gun Control?
Marketing's One Motivation - Sell,
Sell.The Right To Vote, A Long Hard Struggle.
Asteroid Close Encounter With Earth
Ted Nugent - A Real Piece of Work (shit)
Mayors Against Illegal Guns Bowl Ad
Common Sense Gun Laws of Japan
Violence Against Women Act Expires
Republican Hypocrisy Rides Again
Newtown Massacre of Little Children
Obama To Give The GOP A Lollipop?
GOP Acts Out The Terrible Two's .
The GOP's Hands Are Quite Busy
Strong Segregationist Strain in U.S
Lloyd Blankfein, Ebenezer Scrooge
>live without becoming an old jackass.
Read Agenda 21, Glenn Beck's novel?
Democratic Socialism Scare Ignorant People
Accomplishments of President Obama
Mitt Romney's Halloween Special
GOP Tea Party The American Taliban
Bruce Springsteen to Join Obama
Serious Reasons To Vote For Obama
$$ Mitt Romney Style $$
Hey Mitt, Can You Handle More Truth?
Mitt, A Dose Of Truth, Can You Handle It?
Scalia and His Cobweb Thinking
David Letterman: "Romney's Yellow!"
Is Romney's Brain About To Blow?
Creationism – The Study of Darkness
Romney's Success vs. Romney's Greed