ARCHIVES
The "American Neocon Sniper" Movie
I didn't want to see the movie The American Sniper (which should have been called The American Neocon Sniper) but again, my curiosity was piqued, after seeing the throngs of Southern moviegoers (I live in the Deep South) at the box office, clamoring to see this movie. (Which hardly occurs in this little town, movie theatres around these parts are almost always half to entirely empty)
Well, I can tell you… I was disappointedly, not disappointed, it was just what I expected! A gung-ho Iraq war flick that was the most IN YOUR FACE, Neoconservative Propagandized, hyperbole that's been pulled over the American Unthinking Brain since Dick Cheney's announcement in 1994, that going to war with Iraq would be a mistake and then...
https://www.youtube.com/watch?v=qnV4tMvI0ME
unscrupulously, changing his mind in 2003, lying, cajoling, demagogging and doing everything but literally stand on his narrow-minded head to warn AMERICA that we must invade Iraq to protect American women from being forced to wear burkas after Iraq drops their non-existing nuclear bomb deep in the heartland of America.
Ta- dah, ISIS (and the many other terrorist groups that were spawned from Cheney's war)!
How do I feel about this... facebook asked?

that's how. thinkingblue
MORE HERE: http://www.vulture.com/2014/12/movie-review-american-sniper.html
PS: So glad I'm not alone in this opinion, read the critique below who believe this movie to be nothing but a Neocon Crock!
Also a good question to ask... Should We Honor Service in an Unjust War?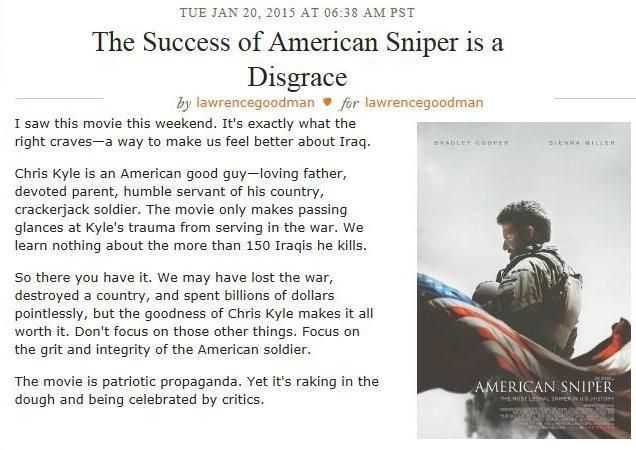 The Success of American Sniper is a Disgrace
by lawrencegoodman
I saw this movie this weekend. It's exactly what the right craves—a way to make us feel better about Iraq.
Chris Kyle is an American good guy—loving father, devoted parent, humble servant of his country, crackerjack soldier. The movie only makes passing glances at Kyle's trauma from serving in the war. We learn nothing about the more than 150 Iraqis he kills.

So there you have it. We may have lost the war, destroyed a country, and spent billions of dollars pointlessly, but the goodness of Chris Kyle makes it all worth it. Don't focus on those other things. Focus on the grit and integrity of the American soldier.

The movie is patriotic propaganda. Yet it's raking in the dough and being celebrated by critics.
http://www.dailykos.com/story/2015/01/20/1358925/-
The-Success-of-American-Sniper-is-a-Disgrace
~~~
Should We Honour Service in an Unjust War?
by LiberalCanuck
I have been following the debate regarding the movie "American Sniper" and have noted the split in opinion regarding this movie generally falls along the line of "how or should we honour someone who fought in an unjust war?"

This question takes me back to the Vietnam war, the conclusion of which I still vividly remember. At that time as well, many Americans both on the Right and Left argued whether Vietnam veterans should be honoured. On the Left the feeling was they had participated in an unjust war, committed war crimes and had prolonged the fighting by agreeing to go. On the Right the feeling was veterans had dishonoured America by fragging officers, disobeying orders, showing a lack of discipline and ultimately losing.

Only two decades later was it eventually decided that the returning veteran deserved to be honoured as a person who was simply doing his duty as best he could in a very ugly war. The Right eventually embraced the Vietnam vet as an honoured colleague and forgot entirely the abuse they showered on his head when he first returned home. The Left conceded that while the war was wrong, the veteran was more often than not a poor person drafted to fight against his will. So, very belatedly, the service of the Vietnam vet was recognized and honoured.

I admit, the question of how to honour – or even if we should honour – the veteran of an unjust war has been of some interest to me ever since. I am a military history buff and have read hundreds of war diaries from both sides of many wars. A common theme in many of these diaries is the demand that the service of those in "enemy" armies be recognized as honourable.
Read More Here: http://www.dailykos.com/story/2015/01/20/1358994/-Should
-We-Honour-Service-in-an-Unjust-War
ARCHIVES
Tea Party Baby Votes To Cut Food Stamps by 40B
The Internet A Place For Murder
Orange Is the New Color of Greed
Military - Atheists Need Not Apply
8 Ways Privatization Is Harmful
The Crook Who Stole Mail Delivery
BGOP-ears Compete With People for Food
The GOP Turned Political Debate Into A Joke!
Critical Thinking/GOP HATE IT!
Latest Right-Wing Hate on Trayvon Martin
ALEC To Blame for Murder Verdict
De ja vu - Excerpts From the Rodney King Case
Gun People: Zimmerman Duty To Murder
ZIMMERMAN MURDERED July 13, 2013
Fl literally gave George Zimmerman license
GOP Don't Care If Children Go Hungry
Mark Ruffalo Hits The Proverbial
Rand Paul To Make Abortions UNSAFE!
Tea Party History 101 - 2 Easy Lessons
Trayvon Martin Case Proves Bigotry
Not Human! Picture of the Day.
Bring Back Paula Deen Facebook
Trayvon Martin Would Be Alive Today
Paul Ryan Health Care Destroyed
GOP to See Poor Children Go Hungry.
Impeachment? It's Silly to George Will
GOP Tea Party Cretins Jump The Shark!
USA Leads In 1st Day Deaths for Newborns
Tea Party NRA's Dance On Graves Victims
Enlightenment Led To The Holocaust
Coming Out To Higher Consciousness
Fanaticism Winner - Common Sense Loser!
Look What Dropped In On Facebook Wall
Study and Remember These Faces
The GOP Afraid Of Gun Control?
Marketing's One Motivation - Sell,
Sell.The Right To Vote, A Long Hard Struggle.
Asteroid Close Encounter With Earth
Ted Nugent - A Real Piece of Work (shit)
Mayors Against Illegal Guns Bowl Ad
Common Sense Gun Laws of Japan
Violence Against Women Act Expires
Republican Hypocrisy Rides Again
Newtown Massacre of Little Children
Obama To Give The GOP A Lollipop?
GOP Acts Out The Terrible Two's .
The GOP's Hands Are Quite Busy
Strong Segregationist Strain in U.S
Lloyd Blankfein, Ebenezer Scrooge
>live without becoming an old jackass.
Read Agenda 21, Glenn Beck's novel?
Democratic Socialism Scare Ignorant People
Accomplishments of President Obama
Mitt Romney's Halloween Special
GOP Tea Party The American Taliban
Bruce Springsteen to Join Obama
Serious Reasons To Vote For Obama
$$ Mitt Romney Style $$
Hey Mitt, Can You Handle More Truth?
Mitt, A Dose Of Truth, Can You Handle It?
Scalia and His Cobweb Thinking
David Letterman: "Romney's Yellow!"
Is Romney's Brain About To Blow?
Creationism – The Study of Darkness
Romney's Success vs. Romney's Greed