Attention: GOP/TP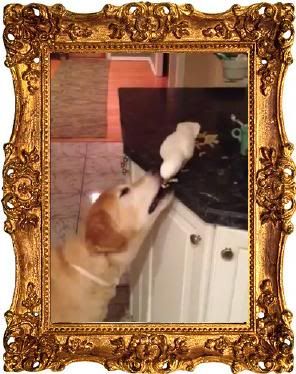 This video is really something to see: A cockatiel feeding a dog. Imagine, animals of different species working together in harmony and displaying mutual respect. I wish every GOP/TP member would watch this and take note; cooperation, benevolence, camaraderie and tolerance towards those who are different from you, really do exist.

thinkingblue
http://www.youtube.com/watch?v=9TWRwuf1arA
PS: Nevermind, forgetaboutit, I can't imagine a Newt Gingrich or a Rick Santorum (or any Tea Party politician) ever comprehending that message!

See the rat figure out how to get a share of the milk without a single nasty action (or word) coming from the cat.
Thinking Outside The GOP "Good Book"
GOP TEA PARTY Now Targeting (demonizing) The Girl Scouts of America
Rational Intelligence Is On Our Side
Without Christopher Hitchens, We (mankind) Are Less.
C-PAC Your White Robes and Pointy Hats Are Showing
RICK SCOTT DRUG TEST POOR PEOPLE UPDATE
The Greatest Generation - Stories
GOP RESPONSE (Ignorance Is Not Bliss) ADDENDUM
ARE THE REPUBLICAN VOTERS WAKING UP?
OCCUPY WALL STREET - AMERICAN AWAKENING
OCCUPY WALL STREET 4TH WEEK UPDATE
OCCUPY WALL STREET WEEK SIX - We Shall Overcome
OWS - POLICE RAID OVER HEALTH CONCERNS
VETERAN'S DAY - A PICTURE THAT SAYS A 1000 WORDS
http://www.thethinkingblue.com
http://thinkingblue.blogspot.com
"Socialism never took root in America because the poor see themselves not as an exploited proletariat but as temporarily embarrassed millionaires."
- John Steinbeck