FIGHT AGAINST SOPA & PIPA January 18, 2012
Who's Going Dark to Protest SOPA, PIPA?

By Chloe Albanesius
January 18, 2012 07:00am EST

Wikipedia SOPA Protest

As many as 7,000 Web sites could go dark today in protest of the Stop Online Piracy Act (SOPA) and the PROTECT IP Act (PIPA), according to community organizers. From major players like Wikipedia, Google, and Reddit to smaller, grass-roots sites, the Web is banding together to battle what they consider to be overly broad and potentially harmful legislation.

Here's a look at just some of the sites that will be closing their doors for 12-24 hours today in protest of SOPA and PIPA. SopaStrike.com also has an extensive list. If you see more throughout the day, let us know in the comments. And chime in on whether you think an Internet blackout is an effective way to battle the bills.

WIKIPEDIA: The English versions of Wikipedia went dark at midnight on Wednesday and will remain that way for 24 hours. "This is going to be wow. I hope Wikipedia will melt phone systems in Washington on Wednesday. Tell everyone you know!" Wikipedia co-founder Jimmy Wales tweeted this week.


BOING BOING: Boing Boing also went dark at midnight. "Boing Boing is offline today, because the US Senate is considering legislation that would certainly kill us forever. The legislation is called the PROTECT IP Act (PIPA), and would put us in legal jeopardy if we linked to a site anywhere online that had any links to copyright infringement," the site reads.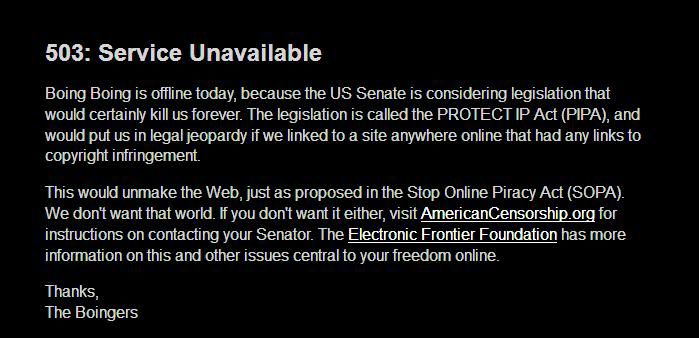 REDDIT: Reddit shuts down at 8am Eastern time Wednesday morning. "Instead of the normal glorious, user-curated chaos of reddit, we will be displaying a simple message about how the PIPA/SOPA legislation would shut down sites like reddit, link to resources to learn more, and suggest ways to take action," the site said in a blog post last week.


GOOGLE: "Like many businesses, entrepreneurs and web users, we oppose these bills because there are smart, targeted ways to shut down foreign rogue websites without asking American companies to censor the Internet," Google said in a statement. "So tomorrow we will be joining many other tech companies to highlight this issue on our U.S. home page." That includes a large black bar atop the Google logo on Google.com, as well as a link to Google's Take Action Web site.



MOZILLA: Mozilla is redirecting traffic from the main Mozilla.org and Mozilla.com English web sites to an action page for 12 hours on Wednesday, Jan. 18 from 8am to 8pm Eastern. Mozilla is also changing the look of the default Firefox start page so that visitors will see a black page with a call to action message to increase awareness of PIPA/SOPA, rather than the traditional white page with the Firefox logo, though search functionality will remain intact. "We hope the blackout of our U.S. sites will help bring attention to this important issue and encourage users to educate themselves about PIPA and SOPA," Mozilla said in a statement. "All users will still be able to receive security updates and access our technical support website. This will NOT affect Firefox users."


WORDPRESS: "If you want to join the protest by blacking out your WordPress site or applying a ribbon, there is now a variety of blackout plugins in the WordPress.org plugins directory," WordPress said in a blog post. "While joining the protest in this manner is laudable, please don't forget to also make those phone calls to U.S. Senators—they're the ones with the voting power."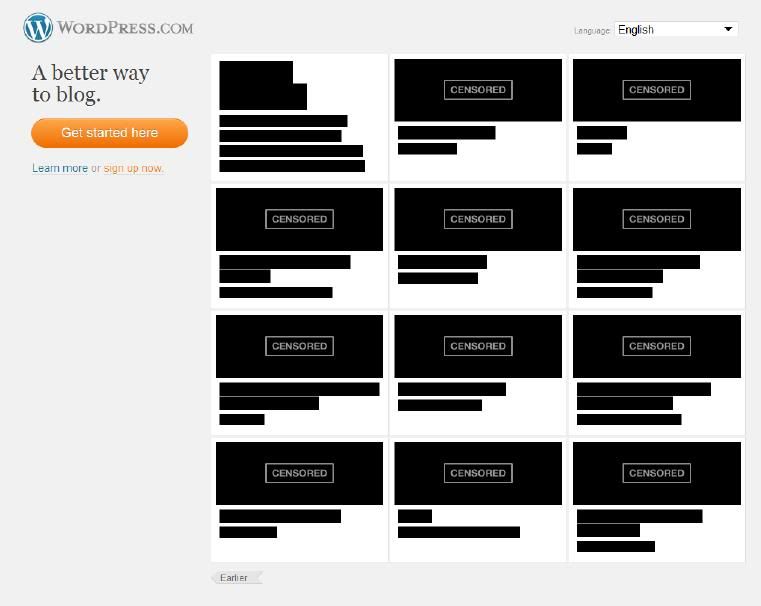 TWITPIC: The Twitter pic site currently has a "Stop Censorship" banner across its logo. Clicking on the logo brings you to a SOPA/PIPA information page, including contact information for your representatives in Congress.


CHEEZBURGER NETWORK: "All Cheezburger sites will also be instituting a blackout on January 18th to protest SOPA and PIPA," CEO Ben Huh tweeted last week.


URBANSPOON: Will black out access to portions of the site's user-generated content (including photos and reviews). When users hover over the black areas, they'll be able to click on anti-SOPA messaging to learn more, and then access the blocked content.


CITYSEARCH: Local guide will be blocking access to multiple parts of the site: Things to Do Nearby; the first review under each business; and the marketing message on the top of the web site; will also link to anti-SOPA messaging.
COULD NOT FIND CITYSEARCH BLACKOUT
ASK.COM: Q&A site is donating ad space on the home page to voice opposition to the act to over 60 million Ask.com users; ad will link to the Open Congress site, giving users a place to directly take action against the bill.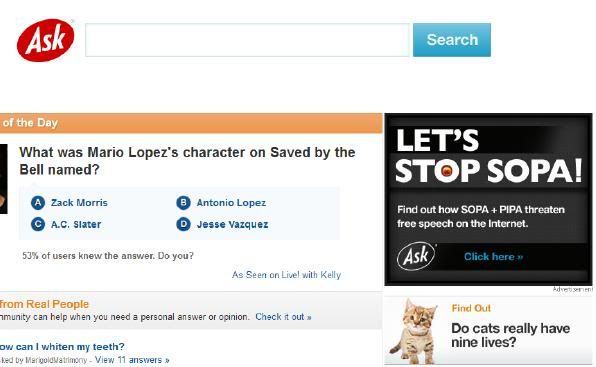 For more from Chloe, follow her on Twitter @ChloeAlbanesius.

For the top stories in tech, follow us on Twitter at @PCMag.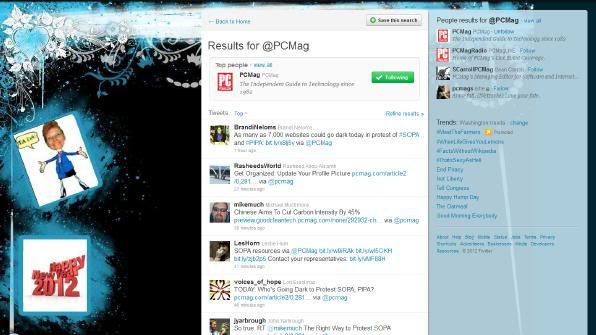 Boycott companies that support SOPA & PIPA
FAQ
What is the intent of SOPA/PROTECT IP?

The stated intent of the bills is to provide tools for law enforcement and copyright holders to protect their intellectual property rights.
What's wrong with protecting copyrights?

Nothing! The devil, as they say, is in the details. PROTECT IP and SOPA will cause too much collateral damage, have a high potential for abuse, and won't even be that effective at stopping the crimes they target. Read alienth's examination of where these bills fail.
I'm not in the U.S. Why does this affect me?

Many of the sites that you may use (e.g. Google, Facebook, Wikipedia, etc.) are all affected by this law and will be required to hide offending domains from you.

If a non-U.S. site is blocked in the U.S., the site could suffer financially or even be bankrupted by the loss of U.S. traffic and revenue.
What are the differences between PROTECT IP and SOPA?

At a general level, the bills are very similar. SOPA, the "Stop Online Piracy Act," is from the House of Representatives, while the PROTECT IP Act is from the Senate. Either or both bills may pass a vote in their chamber of congress on their way to becoming law. Both must be defeated to end this threat. There have recently been more detailed explanations in an ELI5 thread and alienth's blog post.
What about ACTA?

The Anti-Counterfeiting Trade Agreement, or ACTA, is a multi-national agreement with similar goals to the U.S.-only PROTECT IP and SOPA bills. It is criticized for many of the same reasons that PROTECT IP and SOPA are, but is also concerning because it has been drafted in secret. ACTA is not the focus of this blackout but please take the time to learn more about ACTA.
I'm not a U.S. citizen. How can I help?

You can still call or e-mail the U.S. representatives (sponsors of the bills would be a good choice). However, you may want to turn your attention more towards ACTA or other over-zealous copyright bills in your country.
When will reddit be back? What should I do when it comes back?

reddit will return to normal service at 8 PM EST (0100 UTC). While our protest is temporary in nature, PROTECT IP and SOPA are not. Continue to pay attention and join the conversation in /r/SOPA when reddit returns.


Check out the /r/SOPA Community FAQ.
The Greatest Generation - Stories
GOP RESPONSE (Ignorance Is Not Bliss) ADDENDUM
ARE THE REPUBLICAN VOTERS WAKING UP?
OCCUPY WALL STREET - AMERICAN AWAKENING
OCCUPY WALL STREET 4TH WEEK UPDATE
OCCUPY WALL STREET WEEK SIX - We Shall Overcome
OWS - POLICE RAID OVER HEALTH CONCERNS
VETERAN'S DAY - A PICTURE THAT SAYS A 1000 WORDS
http://www.thethinkingblue.com
http://thinkingblue.blogspot.com