ARCHIVES
Attention All Floridians
it's time to vote this idiot out! thinkingblue
Eighty-two percent of Floridians support the legalization of medical marijuana, but Gov. Rick Scott isn't one of them. Apparently, despite the broadly supported issue heading to the ballot at the same time as his re-election, Scott announced he would vote against legalization.
According to the Associated Press, a spokesman for Scott said the governor "has empathy for people battling difficult diseases, but he's also seen the damage drug abuse can do."
This isn't much of a surprise. Scott supported Attorney General Pam Bondi's unsuccessful efforts to keep the issue off the ballot based on the wording of the question.

However, it might not be the best move for his re-election chances. According to the latest Quinnipiac poll, Scott's stance places him among only 16 percent of Floridians who don't support the legalization of marijuana for medical purposes.

The issue will likely have ramifications in Scott's re-election campaign, during which he's widely expected to face now-Democrat Charlie Crist. Democratic strategists hope the issue brings out more liberal-minded voters en masse to the midterm election.

MORE HERE: http://blogs.miaminewtimes.com/riptide/2014/01/rick_
scott_wont_vote_for_medic.php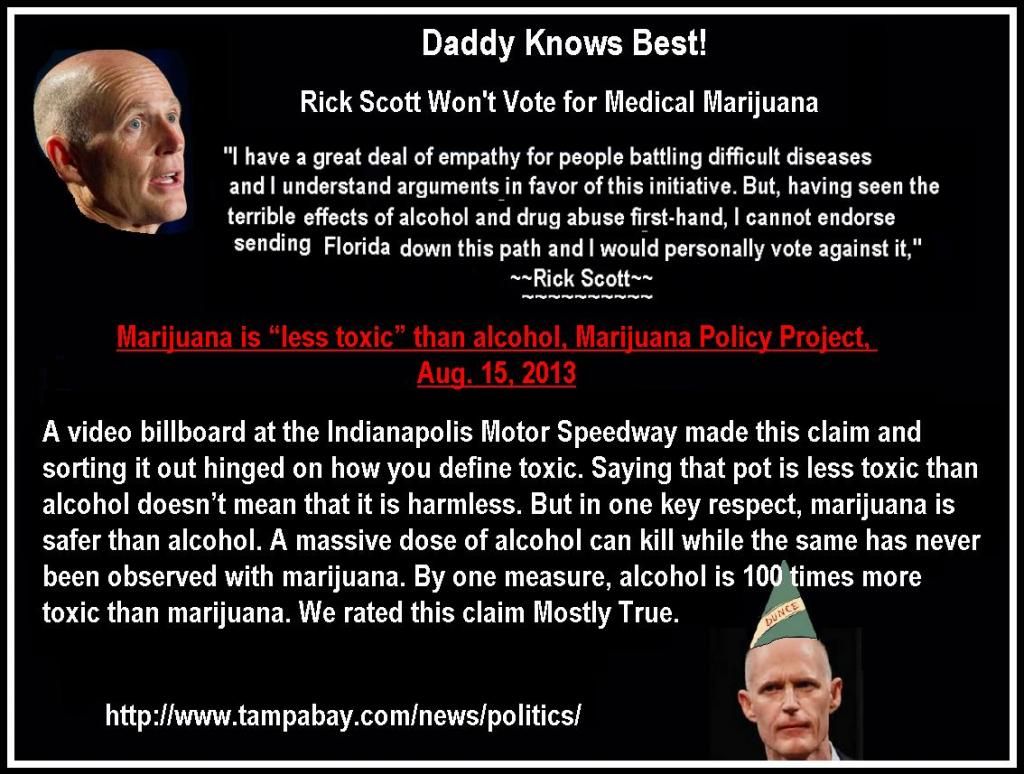 Click Here For Weed Truth: http://www.tampabay.com/news/politics/stateroundup/
politifact-sorting-out-the-truth-on-marijuana/2163678
ARCHIVES
Look What Dropped In On Facebook Wall
Study and Remember These Faces
The GOP Afraid Of Gun Control?
Marketing's One Motivation - Sell,
Sell.The Right To Vote, A Long Hard Struggle.
Asteroid Close Encounter With Earth
Ted Nugent - A Real Piece of Work (shit)
Mayors Against Illegal Guns Bowl Ad
Common Sense Gun Laws of Japan
Violence Against Women Act Expires
Republican Hypocrisy Rides Again
Newtown Massacre of Little Children
Obama To Give The GOP A Lollipop?
GOP Acts Out The Terrible Two's .
The GOP's Hands Are Quite Busy
Strong Segregationist Strain in U.S
Lloyd Blankfein, Ebenezer Scrooge
>live without becoming an old jackass.
Read Agenda 21, Glenn Beck's novel?
Democratic Socialism Scare Ignorant People
Accomplishments of President Obama
Mitt Romney's Halloween Special
GOP Tea Party The American Taliban
Bruce Springsteen to Join Obama
Serious Reasons To Vote For Obama
$$ Mitt Romney Style $$
Hey Mitt, Can You Handle More Truth?
Mitt, A Dose Of Truth, Can You Handle It?
Scalia and His Cobweb Thinking
David Letterman: "Romney's Yellow!"
Is Romney's Brain About To Blow?
Creationism – The Study of Darkness
Romney's Success vs. Romney's Greed