ARCHIVES
GOP Believe the Black Voter To Be As Ignorant As Their Base.
HEY, GOP, YA HAD BETTA THINK AGAIN!
The other day, I came across a short but mendacious article, on how the Democrats are using the poor misguided Black Voter and how little, progressives think of this voting bloc, filling them with lies and misinformation while at the same time taking advantage of their gullibility. SAY WHAT? What they are doing is so absurd, it should be LOL but they are so devious and underhanded that to laugh, just takes one's eye off the ball, allowing them to use their famous or infamous BAIT AND SWITCH tactics. Good explanation of this below:
For GOP hawks, the tactic is "so easy, like taking candy from a baby," says Hardball's Chris Matthews.
Let me finish tonight with this. Think about this bait and switch number. Keep it in mind – how it's done…
First they find something you really don't like, a matter that really burns you up. Then, when you are white hot with anger, they present something "different" for you to hate or fear or whatever they're trying to get you to do. So…they find veterans of the Vietnam war who don't like what John Kerry said in opposing the war after he got home. Then, they take these angry men and say they're angry not at what Kerry said in opposing the war but what he did during the war. Nobody notices the trick that's been pulled. The swiftboating is completed. We all get angry with the people who planned 9/11. While the anger is still hot, they say we need to attack…a country that had nothing to do with 9/11. Bait … and switch! So easy, like taking candy from a baby.
That is how "human beings" (and I do use that term loosely) like, Karl Rove and Reince Priebus win, if you believe nothing is sacred and all's fair when it comes to attaining the Brass Ring, then you will stoop to any low even to literally, TAKE CANDY FROM A BABY. Lowlife is way too nice a term for them, a more accurate phrase would be 'adherents to that which is of the foulest essence'!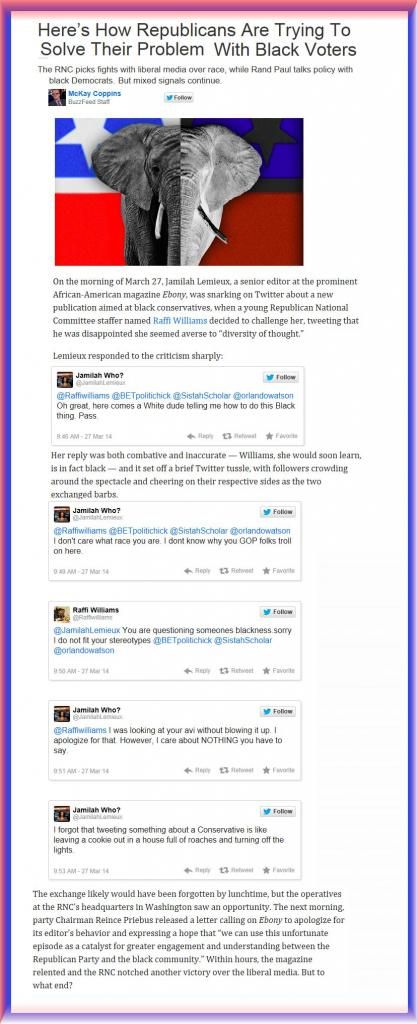 MORE HERE: Here's How...
This is just the Tip of the Iceberg in the long battle of White Supremacy...
ARCHIVES
Rand Paul To Make Abortions UNSAFE!
Tea Party History 101 - 2 Easy Lessons
Trayvon Martin Case Proves Bigotry
Not Human! Picture of the Day.
Bring Back Paula Deen Facebook
Trayvon Martin Would Be Alive Today
Paul Ryan Health Care Destroyed
GOP to See Poor Children Go Hungry.
Impeachment? It's Silly to George Will
GOP Tea Party Cretins Jump The Shark!
USA Leads In 1st Day Deaths for Newborns
Tea Party NRA's Dance On Graves Victims
Enlightenment Led To The Holocaust
Coming Out To Higher Consciousness
Fanaticism Winner - Common Sense Loser!
Look What Dropped In On Facebook Wall
Study and Remember These Faces
The GOP Afraid Of Gun Control?
Marketing's One Motivation - Sell,
Sell.The Right To Vote, A Long Hard Struggle.
Asteroid Close Encounter With Earth
Ted Nugent - A Real Piece of Work (shit)
Mayors Against Illegal Guns Bowl Ad
Common Sense Gun Laws of Japan
Violence Against Women Act Expires
Republican Hypocrisy Rides Again
Newtown Massacre of Little Children
Obama To Give The GOP A Lollipop?
GOP Acts Out The Terrible Two's .
The GOP's Hands Are Quite Busy
Strong Segregationist Strain in U.S
Lloyd Blankfein, Ebenezer Scrooge
>live without becoming an old jackass.
Read Agenda 21, Glenn Beck's novel?
Democratic Socialism Scare Ignorant People
Accomplishments of President Obama
Mitt Romney's Halloween Special
GOP Tea Party The American Taliban
Bruce Springsteen to Join Obama
Serious Reasons To Vote For Obama
$$ Mitt Romney Style $$
Hey Mitt, Can You Handle More Truth?
Mitt, A Dose Of Truth, Can You Handle It?
Scalia and His Cobweb Thinking
David Letterman: "Romney's Yellow!"
Is Romney's Brain About To Blow?
Creationism – The Study of Darkness
Romney's Success vs. Romney's Greed