GOP RESPONSE
I posted the video 'Thom Hartmann Reveals Tea Party's Winning Secrets --it ain't rocket science--'
on Current TV blog and got this response so, so very typical of the PARTY OF NO.

First point:
A healthy 30 year old CHOOSES not to pay for health insurance and he goes into a coma.
Do you LEFT-WINGERS actually believe that the society should FORCE others to pay for the unwise and VOLUNTARY consequences of choices of others? If I decide to spend my money on booze and gambling for decades and wind up broke as a DIRECT RESULT OF THAT VOLUNTARY CHOICE, is society under an obligation – via force of government – to provide a "decent standard of living?" Is that how you people view "compassion?"
Next, "executions." Perry said, "If you come into our state and kill one of our children, police officers, etc., you will face the ultimate justice."
Well, well, well. Let's see if a LEFTIST can be LOGICAL AND CONSISTENT for a change: The Left-wingers constantly drone on about helping the weak, those who cannot care for themselves, and the helpless, right?
Well, what else is an UNBORN CHILD EXCEPT THAT?
But no, no, no. The Left fights for the right to life of a convicted murderer of police, children or other innocents, but yet advocates to let doctors END THE LIFE of the truly helpless, the dependent and the weak!
---
There isn't anything one can say to a hardened indoctrinated right-winger about life, to change their superficial attitudes. Their idea about the miracle of existence is so one-dimensional, so black & white and so… childlike. To believe that one size fits all is na´ve; we all come from different backgrounds, different cultures, different economic circumstances, different ideologies and have different perceptions, in other words WE ARE ALL DIFFERENT yet we experience life with a mutual empathetic understanding about one another. We all feel pain and we suffer whether it is mental or physical, therefore we all (should) care about one another. We can't do it on an individual basis because that would be like trying to save a drowning man alone which would result in the hero drowning along with the victim (panic has no conscience). What is needed is a floatation device to keep the man afloat until you can pull him to safety or wait for trained first responders to arrive. We're all in this together and we all may need a floatation device thrown our way someday, no matter how rich or poor our economic condition may be. Right-wingers like to blame people for their life misfortunes as if we have the ability to plan our every move second by second. If someone finds himself in a dire life situation, it's his own fault. The unrealistic Ayn Rand's "Objectivism", (the tendency, to deal with things external to the mind rather than with thoughts or feelings.) is not, down-to-earth nor sensible. If the human animal's evolutionary course went down that road, I would not be here trying to critique the right-wing form of unconscionable analysis which is… just watch others fall prey to somebody/something and DO NOTHING BUT shake heads and point fingers in judgment claiming IT'S THEIR OWN DAMN FAULT or LET THEM DIE!
----
American Indian Philosophy offers Great Wisdom to modern human beings. It spotlights how we treat God's Creation, our Mother Earth, and how we treat each other.
Words of Black Elk:
"I could see that the Wasichus (whites) did not care for each other the way our people did before the nation's hoop was broken. They would take everything from each other if they could, and so there were some who had more of everything than they could use, while crowds of people had nothing at all and maybe were starving. They had forgotten that the earth was their mother. http://melungeons.com/articles/american.htm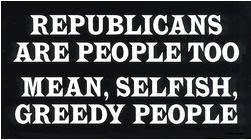 The Greatest Generation - Stories
GOP RESPONSE (Ignorance Is Not Bliss) ADDENDUM
ARE THE REPUBLICAN VOTERS WAKING UP?
OCCUPY WALL STREET - AMERICAN AWAKENING
OCCUPY WALL STREET 4TH WEEK UPDATE
OCCUPY WALL STREET WEEK SIX - We Shall Overcome
OWS - POLICE RAID OVER HEALTH CONCERNS
VETERAN'S DAY - A PICTURE THAT SAYS A 1000 WORDS
http://www.thethinkingblue.com
http://thinkingblue.blogspot.com