ARCHIVES
Rich GOP Are Makers, Everyone Else Takers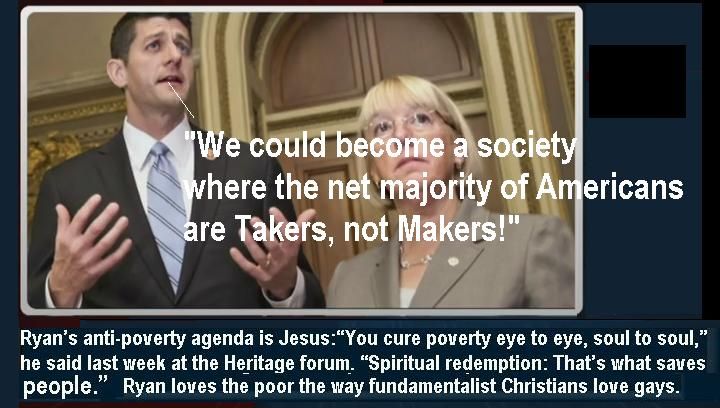 Why are Paul Ryan and the GOP so angry with poor people, calling them TAKERS every chance they get? Why do they wish them to go hungry and without shelter (and health care) even though these so-called TAKERS, work exhaustedly in low paying jobs collecting pittance minimum wages that he and the GOP do not want raised? It's hard to understand someone like Paul Ryan who has led a charmed life and followed a Christian set of beliefs, taught to him by the Catholic Church that he identifies with. Wait a minute, wasn't it Jesus, who lived and died helping the poor, the sick, the very young and the very old; which in turn gave these TAKERS hope? Ryan and his ilk wish to take hope away from the downtrodden in the guise that if they are helped, they will not ever wake up, (like him and his wealthy pals) and suddenly become rich. This man's head is brimming with Ayn Rand's philosophy that selfishness is the correct path for all humanity. Below is an attempt to decipher the convoluted Ayn Rand Philosophy of Selfishness:
---
Question: What does Ayn Rand mean when she describes selfishness as a virtue?
Answer: Ayn Rand rejects altruism, the view that self-sacrifice is the moral ideal. She argues that the ultimate moral value, for each human individual, is his or her own well-being. Since selfishness (as she understands it) is serious, rational, principled concern with one's own well-being, it turns out to be a prerequisite for the attainment of the ultimate moral value. For this reason, Rand believes that selfishness is a virtue. http://www.atlassociety.org/virtue-selfishness
---
It appears, Paul Ryan and most of the GOP have bought into this idea that turning your back on those who need help is a virtue and giving aid to those who are in need, is a disfavor. By George, I think I got it and I also, got a good whiff, IT STINKS!
PS: People who follow and believe this should never serve in public office, leaders should represent all the people not just the few who only need Government's help, to get Richer.
ARCHIVES
Rand Paul To Make Abortions UNSAFE!
Tea Party History 101 - 2 Easy Lessons
Trayvon Martin Case Proves Bigotry
Not Human! Picture of the Day.
Bring Back Paula Deen Facebook
Trayvon Martin Would Be Alive Today
Paul Ryan Health Care Destroyed
GOP to See Poor Children Go Hungry.
Impeachment? It's Silly to George Will
GOP Tea Party Cretins Jump The Shark!
USA Leads In 1st Day Deaths for Newborns
Tea Party NRA's Dance On Graves Victims
Enlightenment Led To The Holocaust
Coming Out To Higher Consciousness
Fanaticism Winner - Common Sense Loser!
Look What Dropped In On Facebook Wall
Study and Remember These Faces
The GOP Afraid Of Gun Control?
Marketing's One Motivation - Sell,
Sell.The Right To Vote, A Long Hard Struggle.
Asteroid Close Encounter With Earth
Ted Nugent - A Real Piece of Work (shit)
Mayors Against Illegal Guns Bowl Ad
Common Sense Gun Laws of Japan
Violence Against Women Act Expires
Republican Hypocrisy Rides Again
Newtown Massacre of Little Children
Obama To Give The GOP A Lollipop?
GOP Acts Out The Terrible Two's .
The GOP's Hands Are Quite Busy
Strong Segregationist Strain in U.S
Lloyd Blankfein, Ebenezer Scrooge
>live without becoming an old jackass.
Read Agenda 21, Glenn Beck's novel?
Democratic Socialism Scare Ignorant People
Accomplishments of President Obama
Mitt Romney's Halloween Special
GOP Tea Party The American Taliban
Bruce Springsteen to Join Obama
Serious Reasons To Vote For Obama
$$ Mitt Romney Style $$
Hey Mitt, Can You Handle More Truth?
Mitt, A Dose Of Truth, Can You Handle It?
Scalia and His Cobweb Thinking
David Letterman: "Romney's Yellow!"
Is Romney's Brain About To Blow?
Creationism – The Study of Darkness
Romney's Success vs. Romney's Greed