ARCHIVES
2013 Mother Of All Stories
"One Third of Americans Reject Human Evolution"
This should be the mother of all stories to end 2013. Just saying "2013" (pertaining to the present year we live in) sounds so futuristic, it begs one to believe that people's understanding of reality must be so advanced, yet one third of America's adults reject evolution... Even though the unenlightened numbers has gone down, that's a helluva lot of ignorant people roaming around in oblivion. No wonder we have the likes of Phil Robertson preaching unmitigated baloney to whomever (mostly those in the one-third % cretin group.) will listen and who pathetically, lives life with their eyes closed. I know that sounds cruel but there is no excuse for these numbers. thinkingblue
"Nothing in the world is more dangerous than sincere ignorance and conscientious stupidity." ? Martin Luther King Jr.
"You are not entitled to your opinion. You are entitled to your informed opinion. No one is entitled to be ignorant." ? Harlan Ellison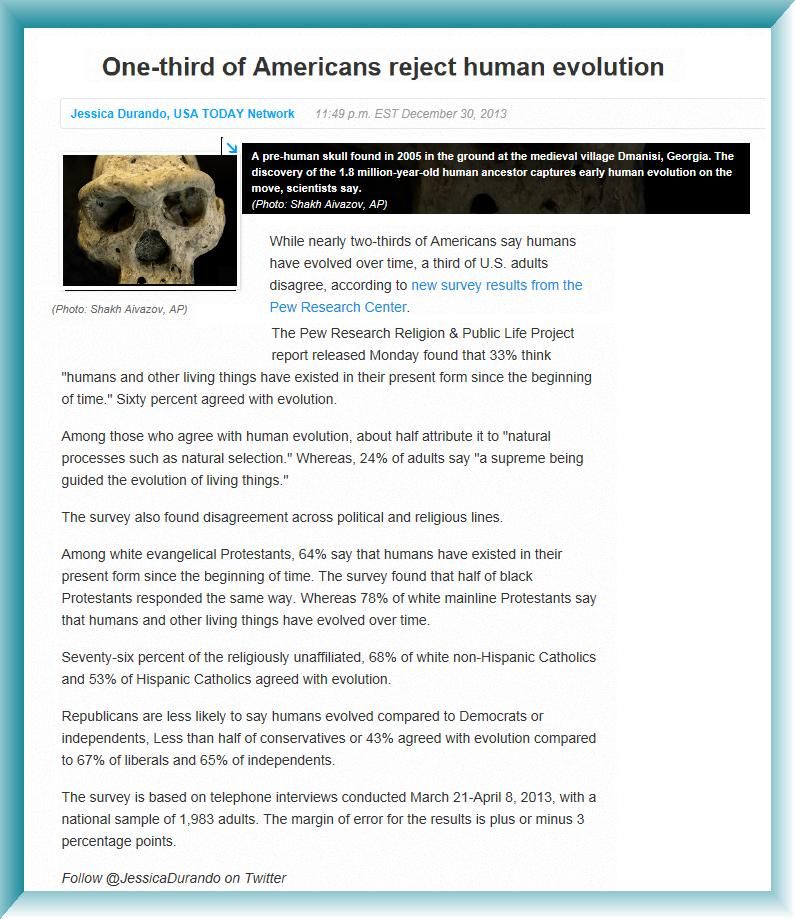 More Here: http://www.usatoday.com/story/news/nation-now/2013/12/30/
More Here: http://www.motherjones.com/politics/2013/11/seven-evolutionary-reasons
ARCHIVES
Look What Dropped In On Facebook Wall
Study and Remember These Faces
The GOP Afraid Of Gun Control?
Marketing's One Motivation - Sell,
Sell.The Right To Vote, A Long Hard Struggle.
Asteroid Close Encounter With Earth
Ted Nugent - A Real Piece of Work (shit)
Mayors Against Illegal Guns Bowl Ad
Common Sense Gun Laws of Japan
Violence Against Women Act Expires
Republican Hypocrisy Rides Again
Newtown Massacre of Little Children
Obama To Give The GOP A Lollipop?
GOP Acts Out The Terrible Two's .
The GOP's Hands Are Quite Busy
Strong Segregationist Strain in U.S
Lloyd Blankfein, Ebenezer Scrooge
>live without becoming an old jackass.
Read Agenda 21, Glenn Beck's novel?
Democratic Socialism Scare Ignorant People
Accomplishments of President Obama
Mitt Romney's Halloween Special
GOP Tea Party The American Taliban
Bruce Springsteen to Join Obama
Serious Reasons To Vote For Obama
$$ Mitt Romney Style $$
Hey Mitt, Can You Handle More Truth?
Mitt, A Dose Of Truth, Can You Handle It?
Scalia and His Cobweb Thinking
David Letterman: "Romney's Yellow!"
Is Romney's Brain About To Blow?
Creationism – The Study of Darkness
Romney's Success vs. Romney's Greed