ARCHIVES
Nellie Bly Message Still Prevalent Today
It's 2015 and still we hear Republicans describe a woman's role in society as "Barefoot and Pregnant". What is it that makes these right-wing people so afraid of a human females' advancement?
Never mind, it doesn't really matter what motivates their fear of women. What does matter is females like Karen Lee Orzolek could never return to the nonsensical days of yesteryear when a popular closed minded columnist would write an article for the Pittsburgh Dispatch, titled, "What Girls Are Good For," in it, Erasmus Wilson wrote that women belonged in the home doing domestic tasks and called the working woman "a MONSTROSITY." Over a hundred years later Erasmus Wilson's ideology still lives.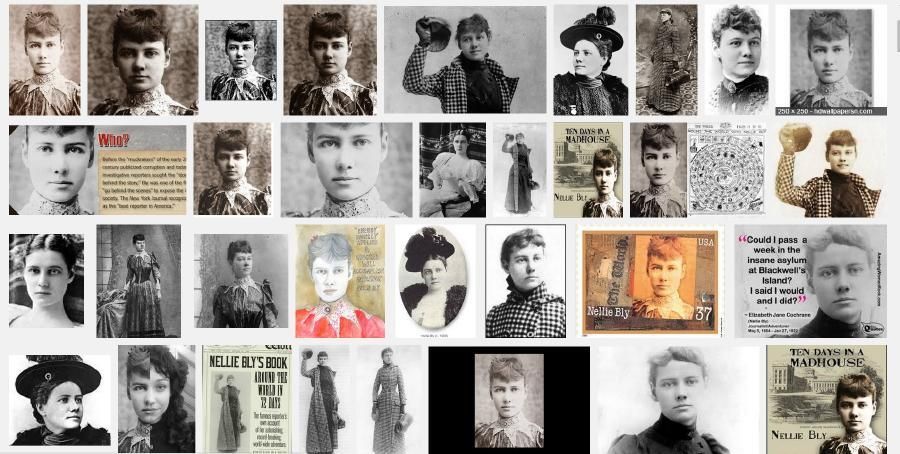 (CNN)Tuesday's Google Doodle pays tribute to trailblazing journalist Nellie Bly on her 151st birthday with a melodic ode.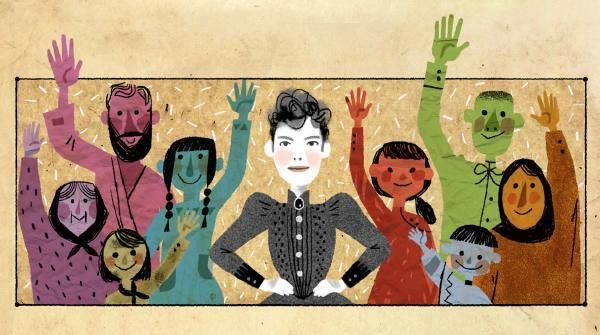 "Oh, Nellie, take us all around the world and break those rules 'cause you're our girl," the song goes.

If you listen closely, you might recognize the voice of Karen O, lead singer of Yeah Yeah Yeahs.

The indie rocker, whose real name is Karen Lee Orzolek, penned "Oh, Nellie" to go with the doodle of Bly, who was born Elizabeth Jane Cochran on May 5, 1864.

It's the first original song to be written for the delightful illustrations that appear on Google's homepage.

The song formed the basis of Google artist Katy Wu's doodle, which is also the first to feature stop-motion animation. The musical animation pays homage to Bly's extraordinary life as a pioneering journalist and adventurer in an era when little more was expected of women than child rearing and housekeeping, Wu said.

As Wu sees it, Bly and Orzolek have plenty in common even if they were born more than a century apart. They're bold, edgy and daring, unafraid to challenge conventional ideas of what a woman should be or do.

"If you see her onstage, she's daring in her own way," Wu said of Orzolek. "She doesn't conform; she does what she wants."

Compare that with Bly, who got her first job with the Pittsburgh Dispatch by penning an impassioned condemnation of its most popular columnist. In the column titled "What Girls Are Good For," Erasmus Wilson wrote that women belonged in the home doing domestic tasks and called the working woman "a monstrosity."

The first line in the Karen O's song evokes the column: "Someone's got to stand up and tell them what a girl is good for."

Cochran's letter impressed the paper's editors, and they hired her. She started writing under the pen name "Nellie Bly."

She eventually talked her way into the offices of Joseph Pulitzer's New York World and took on an assignment that would change her life. She spent 10 days posing as a mental patient in New York's notorious Blackwell's Island and returned with stories of cruel beatings, ice cold baths and forced meals.

Her reporting led to reforms of the system and set the tone for her career. She exposed corruption and the injustices of poverty by telling stories of the disenfranchised, the poor and women. When she covered the Chicago Pullman Railroad strike in 1894, she was the only reporter to share the strikers' perspective.

As the song goes, "We've got to speak up for the ones who've been told to shut up."

She reached the height of her fame when she took a whirlwind trip around the world in 1889 to beat Phileas Fogg, the fictional hero of Jules Verne's "Around the World in Eighty Days." She returned to New York in 72 days, beating Fogg's record of 80 days.

All those moments figure in the doodle, which took Wu about two months to create in a sort of labor of love. She hopes Bly inspires others to question authority and challenge expectations.

"She gave women a space in newspapers when they were generally preserved for men's perspectives," Wu said. "She gave women a voice in current events and media and dared to do a lot of things that women weren't generally allowed to do."
More Here: http://www.cnn.com/2015/05/05/living/feat-google-doodle-nellie-bly-karen-o/
Give a listen to the today's, Erasmus Wilsons in the following video:
ARCHIVES
Tea Party Baby Votes To Cut Food Stamps by 40B
The Internet A Place For Murder
Orange Is the New Color of Greed
Military - Atheists Need Not Apply
8 Ways Privatization Is Harmful
The Crook Who Stole Mail Delivery
BGOP-ears Compete With People for Food
The GOP Turned Political Debate Into A Joke!
Critical Thinking/GOP HATE IT!
Latest Right-Wing Hate on Trayvon Martin
ALEC To Blame for Murder Verdict
De ja vu - Excerpts From the Rodney King Case
Gun People: Zimmerman Duty To Murder
ZIMMERMAN MURDERED July 13, 2013
Fl literally gave George Zimmerman license
GOP Don't Care If Children Go Hungry
Mark Ruffalo Hits The Proverbial
Rand Paul To Make Abortions UNSAFE!
Tea Party History 101 - 2 Easy Lessons
Trayvon Martin Case Proves Bigotry
Not Human! Picture of the Day.
Bring Back Paula Deen Facebook
Trayvon Martin Would Be Alive Today
Paul Ryan Health Care Destroyed
GOP to See Poor Children Go Hungry.
Impeachment? It's Silly to George Will
GOP Tea Party Cretins Jump The Shark!
USA Leads In 1st Day Deaths for Newborns
Tea Party NRA's Dance On Graves Victims
Enlightenment Led To The Holocaust
Coming Out To Higher Consciousness
Fanaticism Winner - Common Sense Loser!
Look What Dropped In On Facebook Wall
Study and Remember These Faces
The GOP Afraid Of Gun Control?
Marketing's One Motivation - Sell,
Sell.The Right To Vote, A Long Hard Struggle.
Asteroid Close Encounter With Earth
Ted Nugent - A Real Piece of Work (shit)
Mayors Against Illegal Guns Bowl Ad
Common Sense Gun Laws of Japan
Violence Against Women Act Expires
Republican Hypocrisy Rides Again
Newtown Massacre of Little Children
Obama To Give The GOP A Lollipop?
GOP Acts Out The Terrible Two's .
The GOP's Hands Are Quite Busy
Strong Segregationist Strain in U.S
Lloyd Blankfein, Ebenezer Scrooge
>live without becoming an old jackass.
Read Agenda 21, Glenn Beck's novel?
Democratic Socialism Scare Ignorant People
Accomplishments of President Obama
Mitt Romney's Halloween Special
GOP Tea Party The American Taliban
Bruce Springsteen to Join Obama
Serious Reasons To Vote For Obama
$$ Mitt Romney Style $$
Hey Mitt, Can You Handle More Truth?
Mitt, A Dose Of Truth, Can You Handle It?
Scalia and His Cobweb Thinking
David Letterman: "Romney's Yellow!"
Is Romney's Brain About To Blow?
Creationism – The Study of Darkness
Romney's Success vs. Romney's Greed