ARCHIVES
President Obama Dared To Compare ISIS To Christian Crusaders
Religion and War
EXCERPT From abcnews.go.com: "After President Obama's remarks comparing ISIS militants to medieval Christian crusaders ignited a firestorm of criticism on Thursday, ABC News wanted to know: how accurate is that comparison?"
~~~
The articles I've posted claim that religion is not used very often as a cause for war and that President Obama was wrong to use The Crusades as a comparison to the ISIS terrorist attacks... I say to that, (using a statement Hillary Clinton made during the Republican Benghazi Smear Campaign against her)...

"WHAT DIFFERENCE DOES IT MAKE?"

WAR and Territorial Disputes, are scourges on the human condition, we should have evolved long ago a desire for peace over war and use our intelligence to resolve differences with the objective use of words and understanding, instead of bombs and weapons that cause great suffering upon our own species.
It appears that Education, Facts or Reality (even Religion) cannot stop people from hurling that proverbial first stone at those they believe are evil and NOT A BIT like themselves, who must fight for what's (delusionary) good for (only their own) humankind?
If We Do Not End War - War Will End Us.
~H.G. Wells~
~~~~
Excerpt from abcnews.go.com: The Crusades, which began in 1095 with the call of Pope Urban II to recover Jerusalem from Muslim rule, were a series of wars that lasted nearly two centuries. Although no reliable estimate of casualties caused by Crusaders exists, the massacre of over 2,700 Muslim prisoners by Richard the Lionheart outside Acre during the Third Crusade has been well documented and is remembered in the Middle East to this day. MORE HERE: http://abcnews.go.com/Politics/historians-weigh-obamas-
comparison-isis-militants-medieval-christian/story?id=28787194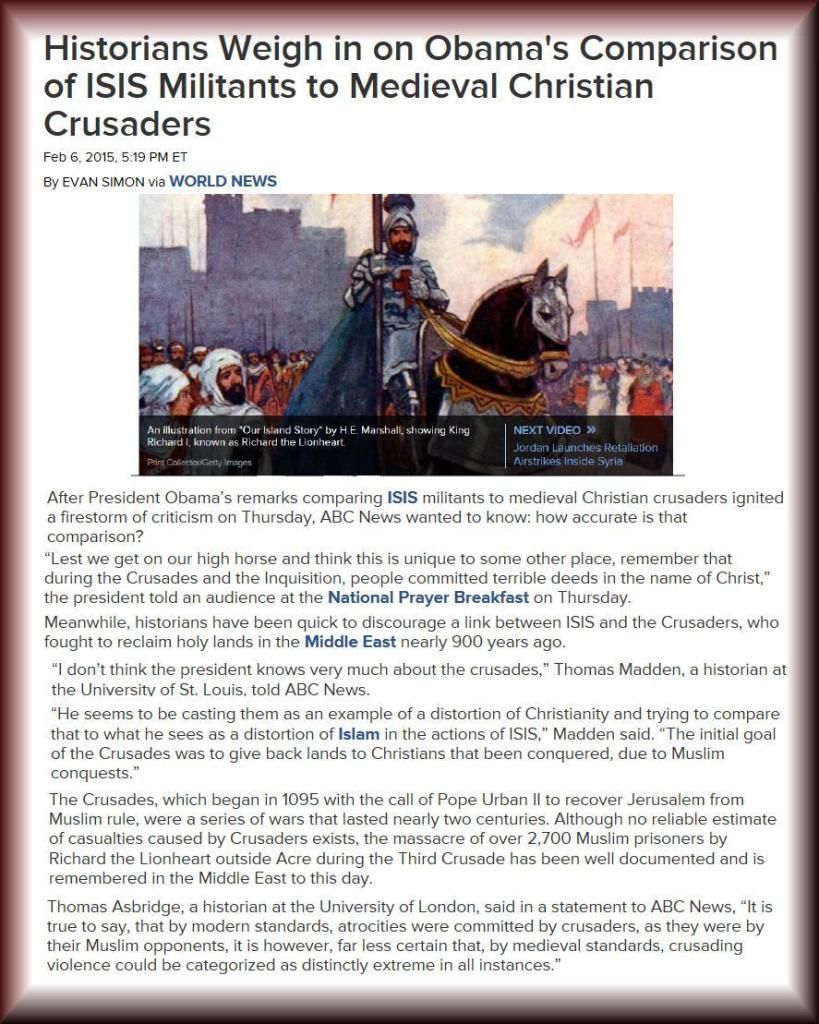 Crusade Definition:
MORE HERE: http://usna.edu/Users/history/abels/hh315/crusades_timeline.htm
Let's go back in time when George W Bush used the Crusades as the same comparison.
MORE HERE: http://www.csmonitor.com/2001/0919/p12s2-woeu.html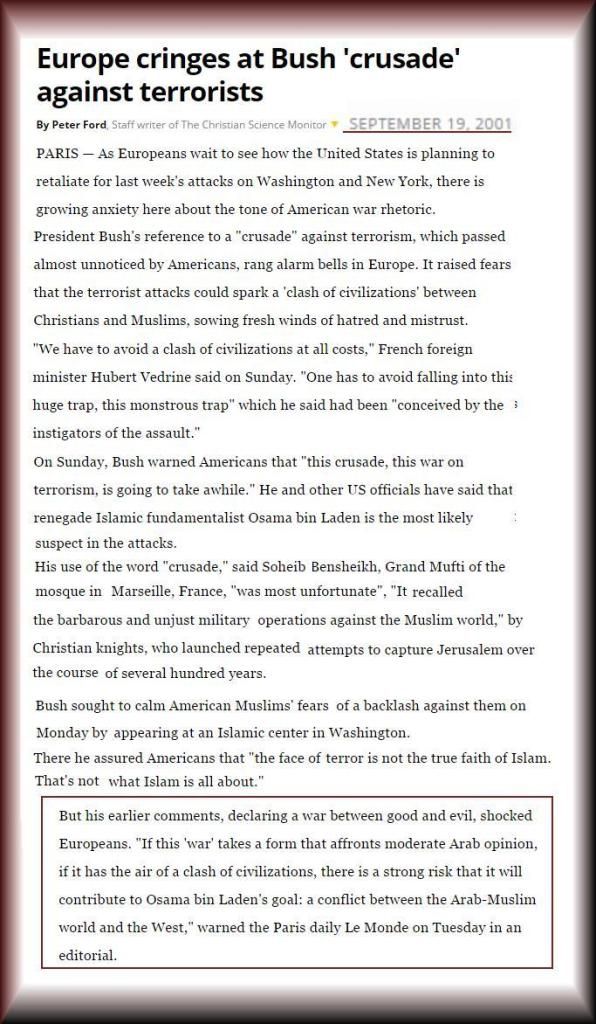 Interesting opinion on using Religion as a cause for war. tb
Excerpt: When I hear someone state that religion has caused most wars, though, I will often and ask the person to name these wars. The response is typically, "Come on! The Crusades, The Inquisition, Northern Ireland, the Middle East, 9/11. Need I name more?"
Well, yes, we do need to name more, because while clearly there were wars that had religion as the prime cause, an objective look at history reveals that those killed in the name of religion have, in fact, been a tiny fraction in the bloody history of human conflict. In their recently published book, "Encyclopedia of Wars," authors Charles Phillips and Alan Axelrod document the history of recorded warfare, and from their list of 1763 wars only 123 have been classified to involve a religious cause, accounting for less than 7 percent of all wars and less than 2 percent of all people killed in warfare. While, for example, it is estimated that approximately one to three million people were tragically killed in the Crusades, and perhaps 3,000 in the Inquisition, nearly 35 million soldiers and civilians died in the senseless, and secular, slaughter of World War 1 alone.
History simply does not support the hypothesis that religion is the major cause of conflict. The wars of the ancient world were rarely, if ever, based on religion.
MORE HERE: http://www.huffingtonpost.com/rabbi-alan-
lurie/is-religion-the-cause-of-_b_1400766.html
Worth A 1000 Words?
If We Do Not End War - War Will End Us. H.G. Wells
ARCHIVES
Tea Party Baby Votes To Cut Food Stamps by 40B
The Internet A Place For Murder
Orange Is the New Color of Greed
Military - Atheists Need Not Apply
8 Ways Privatization Is Harmful
The Crook Who Stole Mail Delivery
BGOP-ears Compete With People for Food
The GOP Turned Political Debate Into A Joke!
Critical Thinking/GOP HATE IT!
Latest Right-Wing Hate on Trayvon Martin
ALEC To Blame for Murder Verdict
De ja vu - Excerpts From the Rodney King Case
Gun People: Zimmerman Duty To Murder
ZIMMERMAN MURDERED July 13, 2013
Fl literally gave George Zimmerman license
GOP Don't Care If Children Go Hungry
Mark Ruffalo Hits The Proverbial
Rand Paul To Make Abortions UNSAFE!
Tea Party History 101 - 2 Easy Lessons
Trayvon Martin Case Proves Bigotry
Not Human! Picture of the Day.
Bring Back Paula Deen Facebook
Trayvon Martin Would Be Alive Today
Paul Ryan Health Care Destroyed
GOP to See Poor Children Go Hungry.
Impeachment? It's Silly to George Will
GOP Tea Party Cretins Jump The Shark!
USA Leads In 1st Day Deaths for Newborns
Tea Party NRA's Dance On Graves Victims
Enlightenment Led To The Holocaust
Coming Out To Higher Consciousness
Fanaticism Winner - Common Sense Loser!
Look What Dropped In On Facebook Wall
Study and Remember These Faces
The GOP Afraid Of Gun Control?
Marketing's One Motivation - Sell,
Sell.The Right To Vote, A Long Hard Struggle.
Asteroid Close Encounter With Earth
Ted Nugent - A Real Piece of Work (shit)
Mayors Against Illegal Guns Bowl Ad
Common Sense Gun Laws of Japan
Violence Against Women Act Expires
Republican Hypocrisy Rides Again
Newtown Massacre of Little Children
Obama To Give The GOP A Lollipop?
GOP Acts Out The Terrible Two's .
The GOP's Hands Are Quite Busy
Strong Segregationist Strain in U.S
Lloyd Blankfein, Ebenezer Scrooge
>live without becoming an old jackass.
Read Agenda 21, Glenn Beck's novel?
Democratic Socialism Scare Ignorant People
Accomplishments of President Obama
Mitt Romney's Halloween Special
GOP Tea Party The American Taliban
Bruce Springsteen to Join Obama
Serious Reasons To Vote For Obama
$$ Mitt Romney Style $$
Hey Mitt, Can You Handle More Truth?
Mitt, A Dose Of Truth, Can You Handle It?
Scalia and His Cobweb Thinking
David Letterman: "Romney's Yellow!"
Is Romney's Brain About To Blow?
Creationism – The Study of Darkness
Romney's Success vs. Romney's Greed