ARCHIVES
FIRST THEY CAME... Save Net Neutrality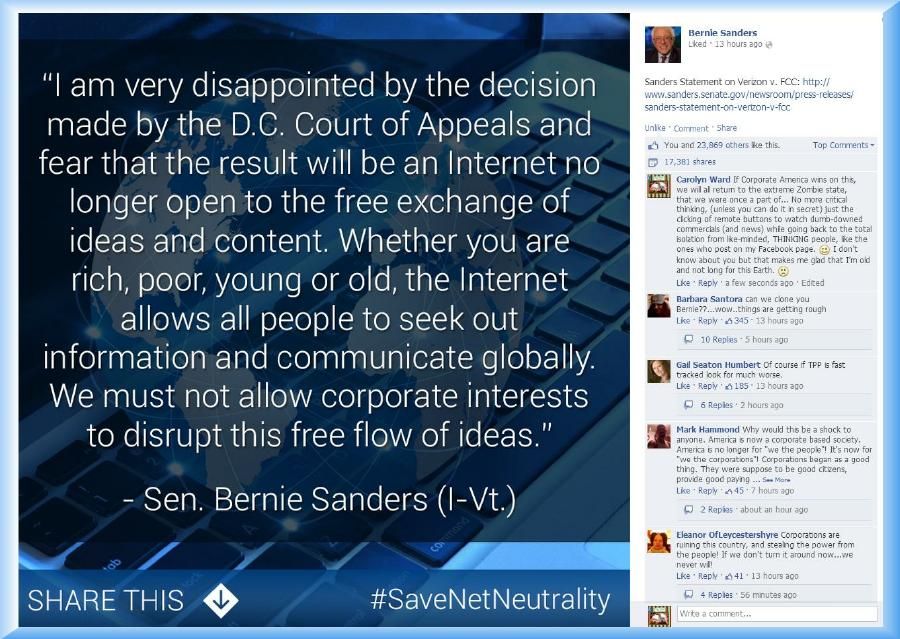 If Corporate America wins on this, we will all return to the extreme Zombie state, that we were once a part of... No more critical thinking, (unless you can do it in secret) just the clicking of remote buttons to watch dumb-downed commercials (and news) while going back to total isolation from like-minded, THINKING people, like the ones who post on my Facebook page.

I don't know about you but that makes me glad I'm old and not long for this Earth.

thinkingblue
FIRST THEY CAME...
"First they came …" is a famous statement and provocative poem attributed to pastor Martin Niemoller (1892–1984) about the cowardice of German intellectuals following the Nazis' rise to power and the subsequent purging of their chosen targets, group after group… http://en.wikipedia.org/wiki/First_they_came_
PS: If we keep allowing Corporate America to diminish our freedoms, (very) soon we will all be slaves to their greedy corrupt appetites.

ARCHIVES
Look What Dropped In On Facebook Wall
Study and Remember These Faces
The GOP Afraid Of Gun Control?
Marketing's One Motivation - Sell,
Sell.The Right To Vote, A Long Hard Struggle.
Asteroid Close Encounter With Earth
Ted Nugent - A Real Piece of Work (shit)
Mayors Against Illegal Guns Bowl Ad
Common Sense Gun Laws of Japan
Violence Against Women Act Expires
Republican Hypocrisy Rides Again
Newtown Massacre of Little Children
Obama To Give The GOP A Lollipop?
GOP Acts Out The Terrible Two's .
The GOP's Hands Are Quite Busy
Strong Segregationist Strain in U.S
Lloyd Blankfein, Ebenezer Scrooge
>live without becoming an old jackass.
Read Agenda 21, Glenn Beck's novel?
Democratic Socialism Scare Ignorant People
Accomplishments of President Obama
Mitt Romney's Halloween Special
GOP Tea Party The American Taliban
Bruce Springsteen to Join Obama
Serious Reasons To Vote For Obama
$$ Mitt Romney Style $$
Hey Mitt, Can You Handle More Truth?
Mitt, A Dose Of Truth, Can You Handle It?
Scalia and His Cobweb Thinking
David Letterman: "Romney's Yellow!"
Is Romney's Brain About To Blow?
Creationism – The Study of Darkness
Romney's Success vs. Romney's Greed