ARCHIVES
Saving America From Koch $3 At A Time
Rick Scott and the other Tea Party Governors, in the pockets of the Koch Brothers; I really believe this was how Fascisim in Europe began and the rest is history. Please donate $3 to help stop them. They have the numbers in money to destroy Democracy but we have the numbers in We-The-People, if we all join together to protect and defend America against their greed. thinkingblue
Contribute Here: https://secure.democraticgovernors.org/page/contribute/
20130829-p?amounts=3,10,25,50,100,250,500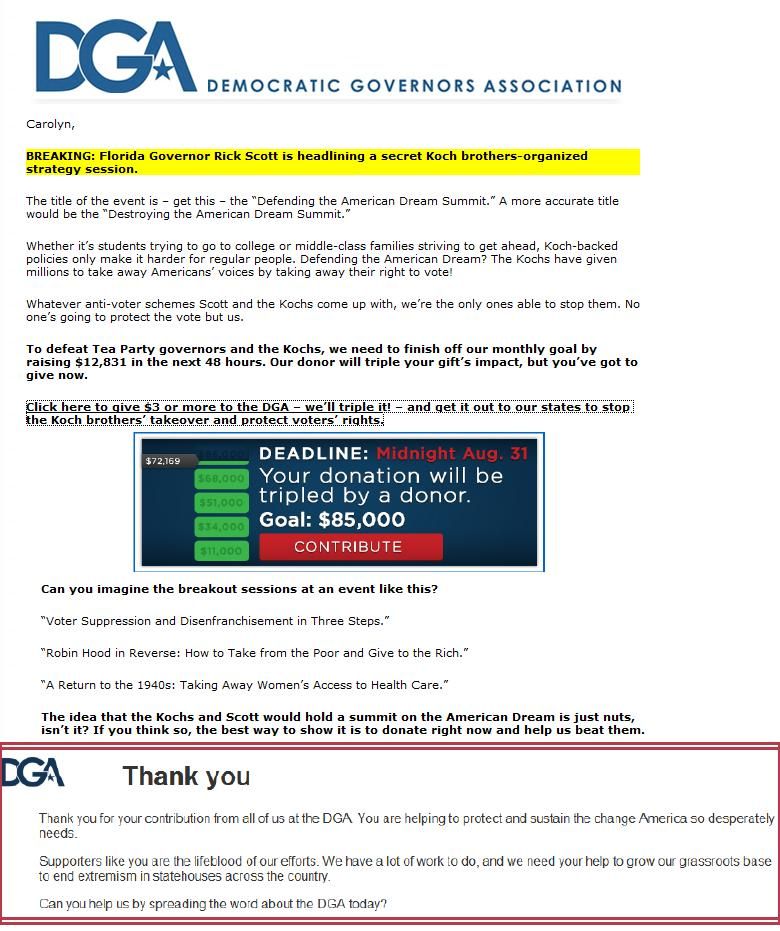 ~~~
Food For Thought
Fascism is a kind of government. In fascism, the country is considered more important than any one person, group, liberty or provision. A country under this kind of government is always run by a person called a leader, who has the right of total control over the government and people. Fascist leadership might also be similar to an oligarchy, such as in Italy, where the fascist party was ruled by its "grand council".
Fascism appeared in Europe before World War II because many people thought that democracy was weak and full of moral perversions, that capitalism was too materialistic and unfair to the people, while communism, although unifying and fair, did not care about the needs of the nation and hampered business initiative. Fascism was supposed to be the answer for that need, with national unity and solidarity instead of the divisions of class struggle and party politics. Liberals and believers in democracy generally considers fascism and communism as two facets of totalitarianism, and that they are unified by the urge to control everything and allow no freedom. But, believers in Marxism-Leninism think that capitalism either creates or uses fascism as a tool to destroy the workers' movements and secure rule by the upper classes if it is challenged. It does so by appealing to the people and to their most primitive needs, while actually pursuing the interests of the already wealthy.

Opposition

There is more than one reason why people living in democratic states oppose fascism, but the main reason is that in a fascist dictatorship the individual citizen has no guaranteed rights. If you say the wrong thing or oppose the wrong person, you can be arrested or killed without a fair trial. You have to be careful to avoid becoming unpopular with the wrong people.
Many people believe that Fascism would not be a terrible system if you always do your duty and you never oppose the government. However, the problem is that people can be corrupt. Everything looks good in theory, but in real life innocent people can get into serious trouble with the government when there is no guaranteed right to a fair trial.
ARCHIVES
Look What Dropped In On Facebook Wall
Study and Remember These Faces
The GOP Afraid Of Gun Control?
Marketing's One Motivation - Sell,
Sell.The Right To Vote, A Long Hard Struggle.
Asteroid Close Encounter With Earth
Ted Nugent - A Real Piece of Work (shit)
Mayors Against Illegal Guns Bowl Ad
Common Sense Gun Laws of Japan
Violence Against Women Act Expires
Republican Hypocrisy Rides Again
Newtown Massacre of Little Children
Obama To Give The GOP A Lollipop?
GOP Acts Out The Terrible Two's .
The GOP's Hands Are Quite Busy
Strong Segregationist Strain in U.S
Lloyd Blankfein, Ebenezer Scrooge
>live without becoming an old jackass.
Read Agenda 21, Glenn Beck's novel?
Democratic Socialism Scare Ignorant People
Accomplishments of President Obama
Mitt Romney's Halloween Special
GOP Tea Party The American Taliban
Bruce Springsteen to Join Obama
Serious Reasons To Vote For Obama
$$ Mitt Romney Style $$
Hey Mitt, Can You Handle More Truth?
Mitt, A Dose Of Truth, Can You Handle It?
Scalia and His Cobweb Thinking
David Letterman: "Romney's Yellow!"
Is Romney's Brain About To Blow?
Creationism – The Study of Darkness
Romney's Success vs. Romney's Greed