ARCHIVES
SCOTUS, Learned Body or Kindergarteners?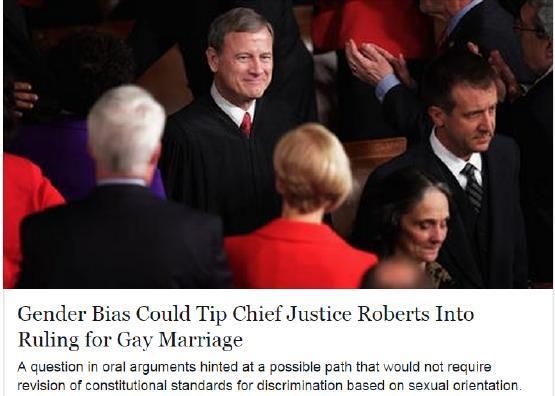 Excerpt: In a telling moment at Tuesday's Supreme Court arguments over same-sex marriage, Chief Justice John G. Roberts Jr. suggested that he may have found a way to cast a vote in favor of the gay and lesbian couples in the case.
"I'm not sure it's necessary to get into sexual orientation to resolve this case," he said. "I mean, if Sue loves Joe and Tom loves Joe, Sue can marry him and Tom can't. And the difference is based upon their different sex. Why isn't that a straightforward question of sexual discrimination?"...

Professor Koppelman and other scholars filed a brief, urging the court to strike down the four same-sex marriage bans before it, on sex-discrimination grounds.
"If Ann is permitted to marry Bob, but Charles may not marry Bob," it said, "then Charles is being discriminated against on the basis of sex."...

A basic premise of Chief Justice Roberts's question was that the issue before the court is not "gay marriage." Same-sex marriage bans, after all, do not prohibit gay people from getting married. A gay man, for instance, is free to marry a lesbian in all 50 states. What same-sex marriage bans do is bar people of the same sex, gay or straight, from getting married.
More Here: http://www.nytimes.com/2015/04/3
SAY WHAT? Is it just I who feels as though these (SCOTUS) arguments appear, childlike? (Almost to the point that little kindergarteners are arguing the laws that we must all obey throughout our short lives) No, it can't possibly be just me, after all, isn't this the body of supposedly learned human beings who gave us the unseemly "Citizens United v. Federal Election Commission and the rise of super PACs" laws, therefore, some of their "reasoning's" have appeard a bit, Bat-Shit-Crazy, before?
If they could rule on a law that in actuality can gut democracy allowing the rich to choose, who can and who cannot lead this nation… (in the wealthy schemer's favor) then assuredly they can command who we can and who we cannot (as in one human being) be allowed to legally marry (with all the legal benefits that marriage affords). Not only Bat-Shit-Crazy but also cruel.
Federal Rights and Protections Granted to Married Couples
There are 1,138 benefits, rights and protections provided on the basis of marital status in Federal law. In June 2013, the Supreme Court's decision in U.S. v. Windsor struck down part of the Defense of Marriage Act (DOMA), which excluded same-sex married couples from recognition for all federal benefits and programs. Because of this ruling, same-sex married couples across the country have been recognized for federal purposes for the first time. However, the persistent patchwork of state marriage laws continues to stand in the way of many couples fully accessing the federal benefits they have earned including Social Security and Veterans Benefits.
More Here: http://www.hrc.org/resources/entry/an-overview-of-federal-rights\to-married-couples
ARCHIVES
Tea Party Baby Votes To Cut Food Stamps by 40B
The Internet A Place For Murder
Orange Is the New Color of Greed
Military - Atheists Need Not Apply
8 Ways Privatization Is Harmful
The Crook Who Stole Mail Delivery
BGOP-ears Compete With People for Food
The GOP Turned Political Debate Into A Joke!
Critical Thinking/GOP HATE IT!
Latest Right-Wing Hate on Trayvon Martin
ALEC To Blame for Murder Verdict
De ja vu - Excerpts From the Rodney King Case
Gun People: Zimmerman Duty To Murder
ZIMMERMAN MURDERED July 13, 2013
Fl literally gave George Zimmerman license
GOP Don't Care If Children Go Hungry
Mark Ruffalo Hits The Proverbial
Rand Paul To Make Abortions UNSAFE!
Tea Party History 101 - 2 Easy Lessons
Trayvon Martin Case Proves Bigotry
Not Human! Picture of the Day.
Bring Back Paula Deen Facebook
Trayvon Martin Would Be Alive Today
Paul Ryan Health Care Destroyed
GOP to See Poor Children Go Hungry.
Impeachment? It's Silly to George Will
GOP Tea Party Cretins Jump The Shark!
USA Leads In 1st Day Deaths for Newborns
Tea Party NRA's Dance On Graves Victims
Enlightenment Led To The Holocaust
Coming Out To Higher Consciousness
Fanaticism Winner - Common Sense Loser!
Look What Dropped In On Facebook Wall
Study and Remember These Faces
The GOP Afraid Of Gun Control?
Marketing's One Motivation - Sell,
Sell.The Right To Vote, A Long Hard Struggle.
Asteroid Close Encounter With Earth
Ted Nugent - A Real Piece of Work (shit)
Mayors Against Illegal Guns Bowl Ad
Common Sense Gun Laws of Japan
Violence Against Women Act Expires
Republican Hypocrisy Rides Again
Newtown Massacre of Little Children
Obama To Give The GOP A Lollipop?
GOP Acts Out The Terrible Two's .
The GOP's Hands Are Quite Busy
Strong Segregationist Strain in U.S
Lloyd Blankfein, Ebenezer Scrooge
>live without becoming an old jackass.
Read Agenda 21, Glenn Beck's novel?
Democratic Socialism Scare Ignorant People
Accomplishments of President Obama
Mitt Romney's Halloween Special
GOP Tea Party The American Taliban
Bruce Springsteen to Join Obama
Serious Reasons To Vote For Obama
$$ Mitt Romney Style $$
Hey Mitt, Can You Handle More Truth?
Mitt, A Dose Of Truth, Can You Handle It?
Scalia and His Cobweb Thinking
David Letterman: "Romney's Yellow!"
Is Romney's Brain About To Blow?
Creationism – The Study of Darkness
Romney's Success vs. Romney's Greed