Int'l Women's Day, Support Women by...
Helping SUMOFUS Get Limbaugh Off Our Airwaves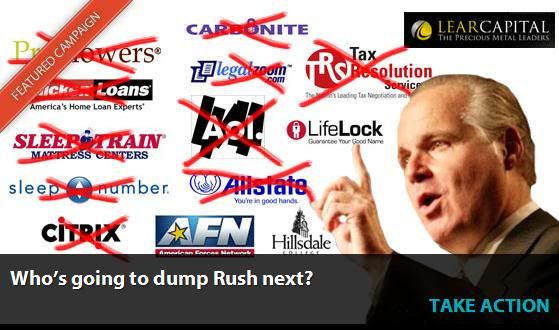 Sign Petition Here: http://sumofus.org/campaigns/limbaugh/?sub=taf
Rush Limbaugh should have been pulled from our airwaves years ago. I don't understand why he has so much power. Could it be that ignorance really is BLISS??? If so, it's too late for me to get that IGNORANT at this stage of the game. WOE IS ME! thinkingblue
"O, woe is me, T'have seen what I have seen, see what I see!" -Ophelia-
PS: Oh, No, Say It Isn't So...
WASHINGTON -- The Hall of Famous Missourians in the Missouri State Capitol is filled with the busts of famous people from the Show-Me State. There are political figures (Harry Truman, John Ashcroft), writers (Laura Ingalls Wilder), musicians (Scott Joplin, Charlie Parker) and even a game show host (Bob Barker). Right-wing radio personality Rush Limbaugh, who is currently embroiled in controversy after he called a female law student advocating for contraception coverage a "slut," will soon be joining that esteemed group.
On Feb. 13, Kansas City, Mo. sculptor E. Spencer Schubert posted on his blog that he was in the process of sculpting busts of Limbaugh and Dred Scott, a slave who unsuccessfully sued for freedom for himself and his family in the famous 1857 case Dred Scott v. Sandford, to go into the Missouri State Capitol. Sean Nicholson of Progress Missouri was first to flag the post. From Schubert's site:
Schubert also posted a picture of him working on the Limbaugh bust, with a photo of the radio host pulled up on his computer screen.
A staffer in the office of the Missouri House of Representatives did not know anything about the Limbaugh project but said that the individuals are chosen by the House Speaker. The picks do not require the approval of full chamber.
Leann Hager, a legislative assistant with Speaker Steven Tilley (R-Perryville), confirmed to The Huffington Post that Tilley had chosen three individuals to be honored this year: Limbaugh, Scott, and baseball legend Buck O'Neil, who was just inducted.
Schubert, who also sculpted the bust of O'Neil, did not return a request for comment.
Limbaugh is currently facing a torrent of criticism from both the right and the left for calling Georgetown law student Sandra Fluke, who spoke out in favor of contraception coverage, a "slut" and a "prostitute" last week. Limbaugh issued an apology for his comments on Saturday, but that has not stopped advertisers -- including AOL, the parent company of The Huffington Post -- from severing ties with his program.
UPDATE: 3:08 p.m. -- The link to the page with Schubert working on the bust of Limbaugh is no longer working. The Huffington Post saved a copy of the picture:

UPDATE: 5:36 p.m. -- Sen. Claire McCaskill (D-Mo.) said Monday on MSNBC's "Hardball" that she opposes the inclusion of Limbaugh in the Hall of Famous Missourians. "He shouldn't be in this hall of fame next to Harry Truman, Mark Twain and Gen. Omar Bradley," she said. McCaskill has a petition on her campaign website on the issue.
WATCH
UPDATE: 6:10 p.m. -- The St. Louis Post-Dispatch reports that the busts are paid for with private funds raised by the Speaker, and that Limbaugh is expected to be inducted at the end of the legislative session in May. When asked about the selection of Limbaugh, Tilley told the Southeast Missourian, "Keep this in mind: It's not called the Hall of Universally Loved Missourians. We've inducted people like John Ashcroft, Warren Hearnes and Harry Truman. They certainly had their detractors."
---
TODAY MARCH 8, 2012 IS INTERNATIONAL WOMEN'S DAY
Hey Limbaugh, tell me, what are your plans for International Women's Day March 8? thinkingblue
"[Mother Teresa] was not a friend of the poor. She was a friend of poverty. She said that suffering was a gift from God. She spent her life opposing the only known cure for poverty, which is the empowerment of women and the emancipation of them from a livestock version of compulsory reproduction."
- Christopher Hitchens -
Help SUMOFUS Get Limbaugh Off Our Airwaves
THE MANY VENOMS OF RUSH LIMBAUGH
The Unabashed Ignorance of Rush Limbaugh
Once Upon A Time, Not So Long Ago, The USA Was A Republic
Thinking Outside The GOP "Good Book"
GOP TEA PARTY Now Targeting (demonizing) The Girl Scouts of America
Rational Intelligence Is On Our Side
Without Christopher Hitchens, We (mankind) Are Less.
C-PAC Your White Robes and Pointy Hats Are Showing
RICK SCOTT DRUG TEST POOR PEOPLE UPDATE
The Greatest Generation - Stories
GOP RESPONSE (Ignorance Is Not Bliss) ADDENDUM
ARE THE REPUBLICAN VOTERS WAKING UP?
OCCUPY WALL STREET - AMERICAN AWAKENING
OCCUPY WALL STREET 4TH WEEK UPDATE
OCCUPY WALL STREET WEEK SIX - We Shall Overcome
OWS - POLICE RAID OVER HEALTH CONCERNS
VETERAN'S DAY - A PICTURE THAT SAYS A 1000 WORDS
http://www.thethinkingblue.com
http://thinkingblue.blogspot.com
"Socialism never took root in America because the poor see themselves not as an exploited proletariat but as temporarily embarrassed millionaires."
- John Steinbeck