ARCHIVES
Supreme Feud - Religion vs. Reality
Supreme Court taking us for a ride back in time.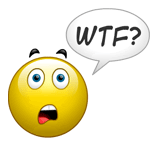 Is this the real life?
Is this just fantasy?
Caught in a landslide
No escape from reality...
(Bohemian Rhapsody)
Written by Freddie Mercury.
Sung by Freddie Mercury.
OH, it's real life ALL RIGHT but it's based on a fantasy. Hold on to your hats folks… we're in for the holy roller ride of our lives!
AND IN THIS DAY AND AGE OF SCIENCE TECHNOLOGY?
PS: Please wake me when it's over!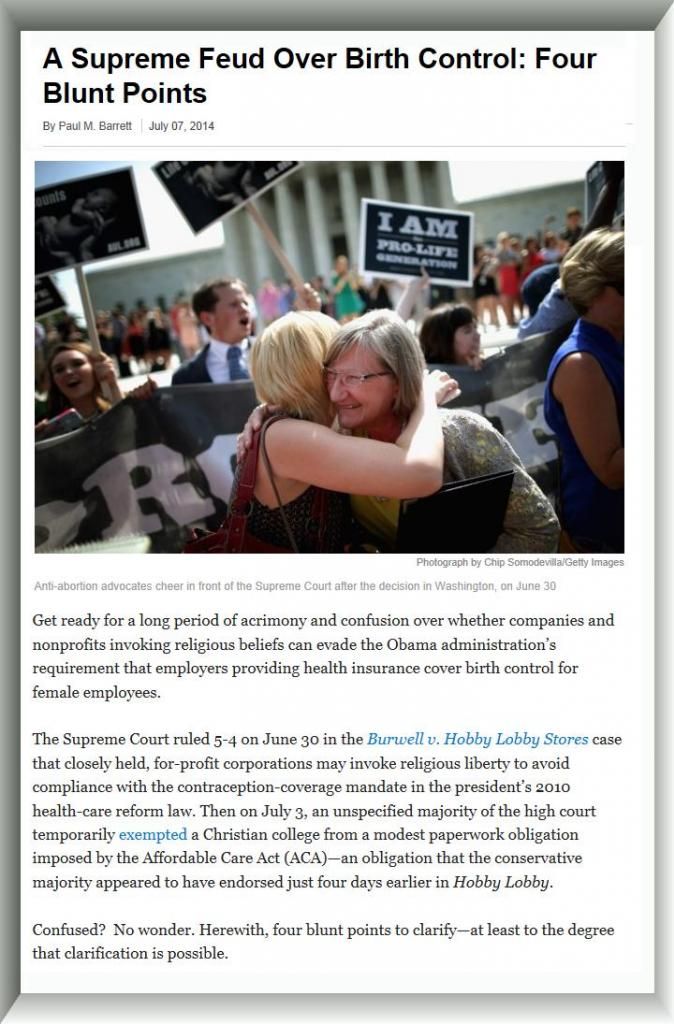 MORE HERE:
http://www.businessweek.com/articles/2014-07-07/supreme-court
-feuds-over-the-hobby-lobby-birth-control-ruling
Ginsburg: 'Radical' Hobby Lobby Ruling May Create 'Havoc'
The Supreme Court justice took on the majority opinion in a biting dissent.
The Supreme Court on Monday weakened Obamacare's controversial contraception mandate, ruling 5-4 that some employers cannot be forced to cover birth control as part of their health insurance plans. The majority opinion, written by conservative Justice Samuel Alito, said such a mandate infringes on religious freedom, and therefore can be waived by certain business owners.
But in a blistering, 35-page dissent, Justice Ruth Bader Ginsburg, joined by Justice Sonia Sotomayor, lambasted the majority opinion—delivered by five male justices—as "a decision of startling breadth" that would allow corporations to "opt out of any law … they judge incompatible with their sincerely held religious beliefs."
The majority view "demands accommodation of a for-profit corporation's religious beliefs no matter the impact that accommodation may have on third parties who do not share the corporation owners' religious faith—in these cases, thousands of women employed by Hobby Lobby and Conestoga or dependents of persons those corporations employ," wrote Ginsburg, a stalwart member of the Court's liberal wing.
She continued: "Persuaded that Congress enacted the (Religious Freedom Restoration Act) to serve a far less radical purpose, and mindful of the havoc the Court's judgment can introduce, I dissent."
Ginsburg's opinion reasons that religious groups exist to serve the explicit interests of their adherents, while for-profit companies serve a fundamentally different purpose. Bucking the majority, Ginsburg sides with the Obama administration's claim that for-profit companies do not possess religious rights under the RFRA.
Granting them such rights, Ginsburg contends, could allow employers to trample over any number of health care needs in the name of religious objection.
MORE HERE: http://www.nationaljournal.com/health-care/ginsburg-radical
-hobby-lobby-ruling-may-create-havoc-20140630
MORE HERE: http://www.bustle.com/articles/29878-ruth-bader-ginsburgs-
hobby-lobby-dissent-is-the-best-takedown-ever
ARCHIVES
Rand Paul To Make Abortions UNSAFE!
Tea Party History 101 - 2 Easy Lessons
Trayvon Martin Case Proves Bigotry
Not Human! Picture of the Day.
Bring Back Paula Deen Facebook
Trayvon Martin Would Be Alive Today
Paul Ryan Health Care Destroyed
GOP to See Poor Children Go Hungry.
Impeachment? It's Silly to George Will
GOP Tea Party Cretins Jump The Shark!
USA Leads In 1st Day Deaths for Newborns
Tea Party NRA's Dance On Graves Victims
Enlightenment Led To The Holocaust
Coming Out To Higher Consciousness
Fanaticism Winner - Common Sense Loser!
Look What Dropped In On Facebook Wall
Study and Remember These Faces
The GOP Afraid Of Gun Control?
Marketing's One Motivation - Sell,
Sell.The Right To Vote, A Long Hard Struggle.
Asteroid Close Encounter With Earth
Ted Nugent - A Real Piece of Work (shit)
Mayors Against Illegal Guns Bowl Ad
Common Sense Gun Laws of Japan
Violence Against Women Act Expires
Republican Hypocrisy Rides Again
Newtown Massacre of Little Children
Obama To Give The GOP A Lollipop?
GOP Acts Out The Terrible Two's .
The GOP's Hands Are Quite Busy
Strong Segregationist Strain in U.S
Lloyd Blankfein, Ebenezer Scrooge
>live without becoming an old jackass.
Read Agenda 21, Glenn Beck's novel?
Democratic Socialism Scare Ignorant People
Accomplishments of President Obama
Mitt Romney's Halloween Special
GOP Tea Party The American Taliban
Bruce Springsteen to Join Obama
Serious Reasons To Vote For Obama
$$ Mitt Romney Style $$
Hey Mitt, Can You Handle More Truth?
Mitt, A Dose Of Truth, Can You Handle It?
Scalia and His Cobweb Thinking
David Letterman: "Romney's Yellow!"
Is Romney's Brain About To Blow?
Creationism – The Study of Darkness
Romney's Success vs. Romney's Greed