ARCHIVES
To Be Or Not To Be Gay/Straight
A worthwhile reality read.
EXCERPT: I had known I was attracted to my own sex since I was 18. I came out as a senior in high school in Ohio and embraced my homosexuality. I found wide acceptance within my family, and I lived openly as a homosexual until the age of 24. But around that point in my life I found myself becoming very despondent, even suicidal. I attributed my unhappiness to my homosexuality. In reality, I was tremendously insecure, lonely and searching for an identity. I could no longer accept myself.
At the time I first began having those doubts, in the mid-1980s, I was attending Ohio State University, where the campus pastor introduced me to Christianity. I told him, "God can't love me because I'm gay." The pastor replied, in essence, that this wasn't true, that God could love me, but he added that if I continued being gay, God would not be pleased with my life. I came to believe that homosexuality was something that God was against, and if I continued to embrace it, I would not be pleasing to Him.
~~~
No, wonder human beings do not make much sense, with the reliance on ineffectual religion.
Mentally troubled people seek advice from religious leaders who claim to know all there is about life (via a supernatural god); gushing forth to those in desperate need for reality, subjective bible quotes that actually go against the teaching of Christianity (and others).
Common sense would simply suggest: It takes love and tolerance to calm the troubled soul, which will eventually allow us all get along with one another. Not some god quote, made up by some opinionated Ahole...!


thinkingblue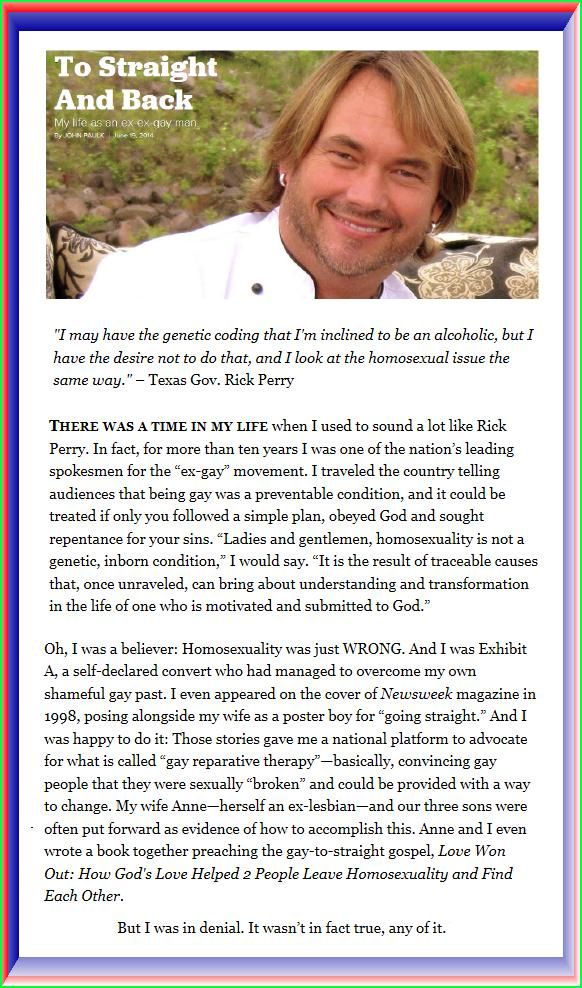 I came across this Dear Amy newspaper clip some time ago. IMHO, it is the best explanation of what it would be like if you were forced to be other than what you were physically born to be. thinkingblue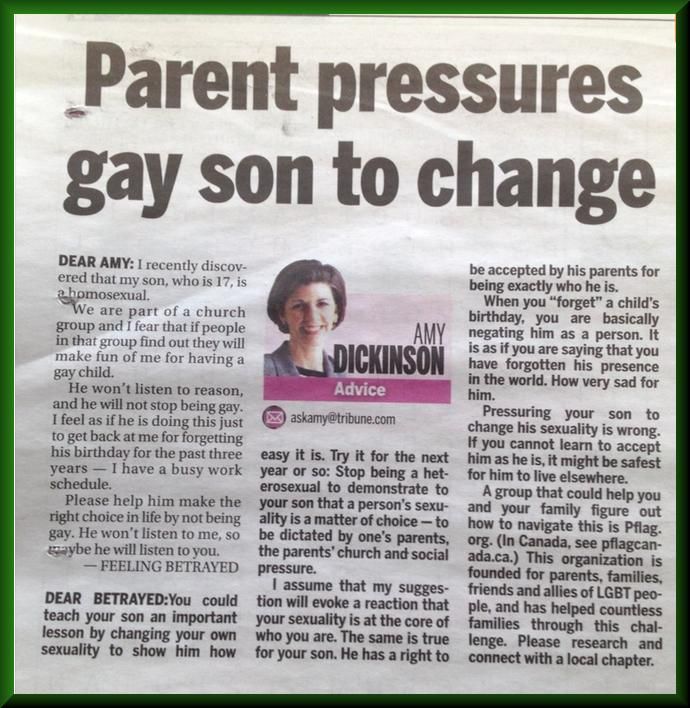 ARCHIVES
Rand Paul To Make Abortions UNSAFE!
Tea Party History 101 - 2 Easy Lessons
Trayvon Martin Case Proves Bigotry
Not Human! Picture of the Day.
Bring Back Paula Deen Facebook
Trayvon Martin Would Be Alive Today
Paul Ryan Health Care Destroyed
GOP to See Poor Children Go Hungry.
Impeachment? It's Silly to George Will
GOP Tea Party Cretins Jump The Shark!
USA Leads In 1st Day Deaths for Newborns
Tea Party NRA's Dance On Graves Victims
Enlightenment Led To The Holocaust
Coming Out To Higher Consciousness
Fanaticism Winner - Common Sense Loser!
Look What Dropped In On Facebook Wall
Study and Remember These Faces
The GOP Afraid Of Gun Control?
Marketing's One Motivation - Sell,
Sell.The Right To Vote, A Long Hard Struggle.
Asteroid Close Encounter With Earth
Ted Nugent - A Real Piece of Work (shit)
Mayors Against Illegal Guns Bowl Ad
Common Sense Gun Laws of Japan
Violence Against Women Act Expires
Republican Hypocrisy Rides Again
Newtown Massacre of Little Children
Obama To Give The GOP A Lollipop?
GOP Acts Out The Terrible Two's .
The GOP's Hands Are Quite Busy
Strong Segregationist Strain in U.S
Lloyd Blankfein, Ebenezer Scrooge
>live without becoming an old jackass.
Read Agenda 21, Glenn Beck's novel?
Democratic Socialism Scare Ignorant People
Accomplishments of President Obama
Mitt Romney's Halloween Special
GOP Tea Party The American Taliban
Bruce Springsteen to Join Obama
Serious Reasons To Vote For Obama
$$ Mitt Romney Style $$
Hey Mitt, Can You Handle More Truth?
Mitt, A Dose Of Truth, Can You Handle It?
Scalia and His Cobweb Thinking
David Letterman: "Romney's Yellow!"
Is Romney's Brain About To Blow?
Creationism – The Study of Darkness
Romney's Success vs. Romney's Greed