ARCHIVES
Unbelievable Trial!
Just came upon this story this morning via a facebook image (below). I would like to say this story is UNBELIEVABLE but the older I get the less I can tack the word UNBELIEVABLE on to news concerning the convoluted goings-on in our supposedly democratic system of justice (Really, tomorrow's, astonishing "unbelievable" news will be met with a… "Ho Hum, WHAT ELSE IS NEW?").
The phrase I used on my DailyKos blog is: "A search for truth will find injustice!" Today, with the help of SCOTUS our system of justice will too soon, no longer stand for fairness; It will be the very wealthy not We-The-People who will decide who is and who is not worthy of Due Process or the Electoral Process. Anyway, I am going to follow this trial and hope that the civilized people's call for JUSTICE will still have some strength and Cecily McMillan will get her Fifth Amendment Right of Due Process. thinkingblue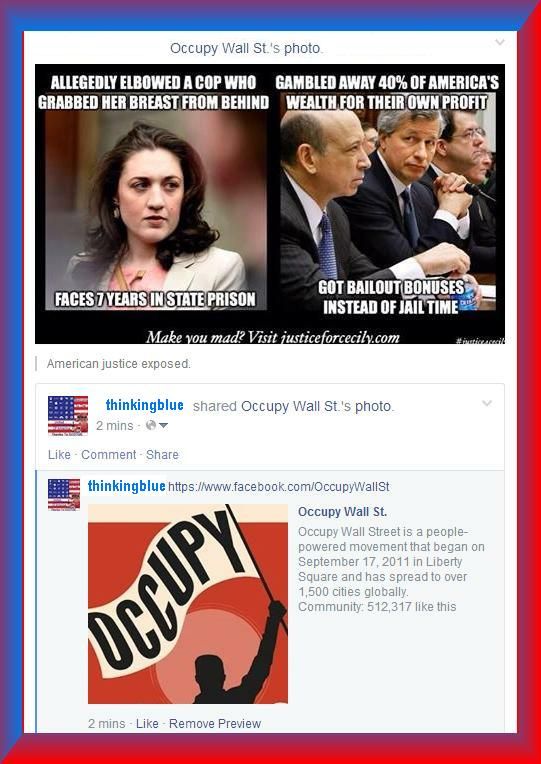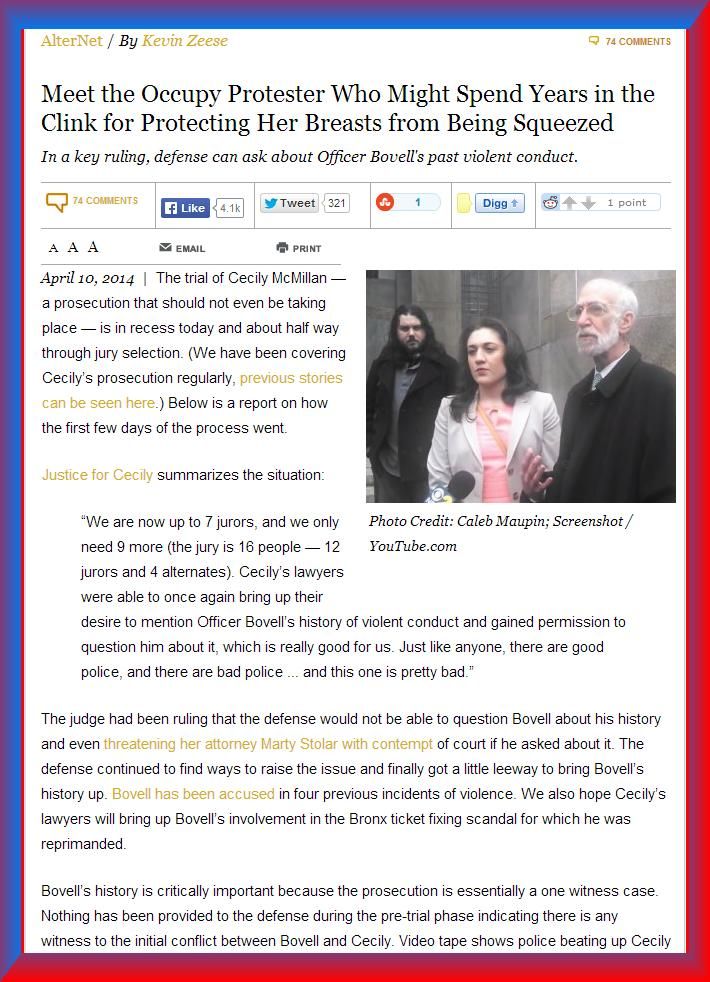 More at this Link: The Trial of Cecily McMillan
More Links on this UNBELIEVABLE STORY:
Charges Against Cecily McMillan
Excerpt: Occupy participant Cecily McMillan is being prosecuted for felony police assault and may face up to 7 years in prison. In reality, it is the NYPD that should be on trial for their assault on McMillan. The trial has already been delayed because of the credibility of the arresting officer, however, New York City should review the case and drop all charges against McMillan.
The Outrageous Trial of Cecily McMillan
Excerpt: Two years ago, a young activist named Cecily McMillan attended a protest at Zuccotti Park marking the six-month anniversary of Occupy Wall Street. When police moved in to clear the demonstrators, a cop roughly grabbed her breast—photos show an ugly bruise—and she ended up being injured so badly that she had a seizure and ended up in the hospital. In a just world, she would be getting restitution from the City. Instead, in a grotesque act of prosecutorial overreach, she's currently on trial for assault and facing up to seven years in prison.
Excerpt: Introduction to Corporate Personhood
Our Bill of Rights was the result of tremendous efforts to institutionalize and protect the rights of human beings. It strengthened the premise of our Constitution: that the people are the root of all power and authority for government. This vision has made our Constitution and government a model emulated in many nations.
But corporate lawyers (acting as both attorneys and judges) subverted our Bill of Rights in the late 1800's by establishing the doctrine of "corporate personhood" — the claim that corporations were intended to fully enjoy the legal status and protections created for human beings.
ARCHIVES
Rand Paul To Make Abortions UNSAFE!
Tea Party History 101 - 2 Easy Lessons
Trayvon Martin Case Proves Bigotry
Not Human! Picture of the Day.
Bring Back Paula Deen Facebook
Trayvon Martin Would Be Alive Today
Paul Ryan Health Care Destroyed
GOP to See Poor Children Go Hungry.
Impeachment? It's Silly to George Will
GOP Tea Party Cretins Jump The Shark!
USA Leads In 1st Day Deaths for Newborns
Tea Party NRA's Dance On Graves Victims
Enlightenment Led To The Holocaust
Coming Out To Higher Consciousness
Fanaticism Winner - Common Sense Loser!
Look What Dropped In On Facebook Wall
Study and Remember These Faces
The GOP Afraid Of Gun Control?
Marketing's One Motivation - Sell,
Sell.The Right To Vote, A Long Hard Struggle.
Asteroid Close Encounter With Earth
Ted Nugent - A Real Piece of Work (shit)
Mayors Against Illegal Guns Bowl Ad
Common Sense Gun Laws of Japan
Violence Against Women Act Expires
Republican Hypocrisy Rides Again
Newtown Massacre of Little Children
Obama To Give The GOP A Lollipop?
GOP Acts Out The Terrible Two's .
The GOP's Hands Are Quite Busy
Strong Segregationist Strain in U.S
Lloyd Blankfein, Ebenezer Scrooge
>live without becoming an old jackass.
Read Agenda 21, Glenn Beck's novel?
Democratic Socialism Scare Ignorant People
Accomplishments of President Obama
Mitt Romney's Halloween Special
GOP Tea Party The American Taliban
Bruce Springsteen to Join Obama
Serious Reasons To Vote For Obama
$$ Mitt Romney Style $$
Hey Mitt, Can You Handle More Truth?
Mitt, A Dose Of Truth, Can You Handle It?
Scalia and His Cobweb Thinking
David Letterman: "Romney's Yellow!"
Is Romney's Brain About To Blow?
Creationism – The Study of Darkness
Romney's Success vs. Romney's Greed