ARCHIVES
Human Beings, A Virus With Shoes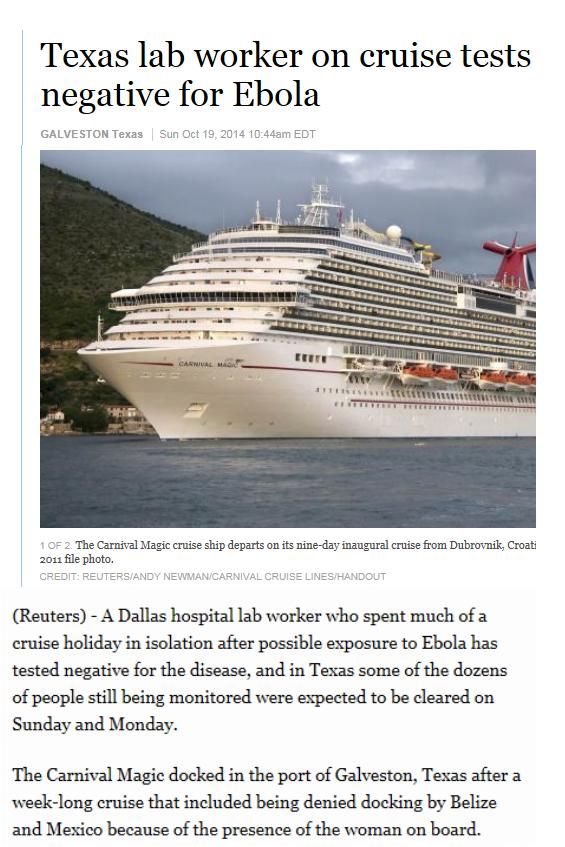 Read More Here: Lab Worker On Cruise Tests Negative For Ebola
After coming across this unbelievably astonishing news item today, Lab Worker On Cruise Tests Negative For Ebola, I contend that, without a doubt, the human race with all its magnificence is nothing more than a bunch of scared little rabbits. Let me rephrase, The Human Race with all its magnificence can turn into a bunch of scared little rabbits. It's really rather simple, with the use of religious, political and capitalist indoctrination; By the likes of Religion (creating a false fear of a brutal, supernatural being), Right-wing Ideology (Fox News and all its negative extremities),The Corporate Personhood (with its bombardment of advertised gimmickry and nostrum you can't live without) and Anyone or whatever that will gain power and riches by scaring the bejesus out of common folk who live, in part, a cloistered life of narcissistic fantasy.
And, it's disgusting, to those who can recognize this to be the truth. The Ebola scare is perfect proof of how apparent this unfortunate reality is, especially here in America. We Americans are running around like headless chickens, at the thought of contracting a disease that was once, not a threat, as long as it stayed in Africa where it killed thousands of humans that we could not identify with or feel any empathy toward. But now, that is has hitchhiked across the ocean, landing on America's soil we are frightened to death of our individual extinction. Instead of fear, we ought to be feeling unmitigated shame at what we've become.
Bill Hicks, said it best: "People suck, and that's my contention… I'm tired of this backslapping "Aren't humanity neat?" bullshit. We're a virus with shoes, okay?
That's all we are."

More Quotes Here: http://en.wikiquote.org/wiki/Bill_Hicks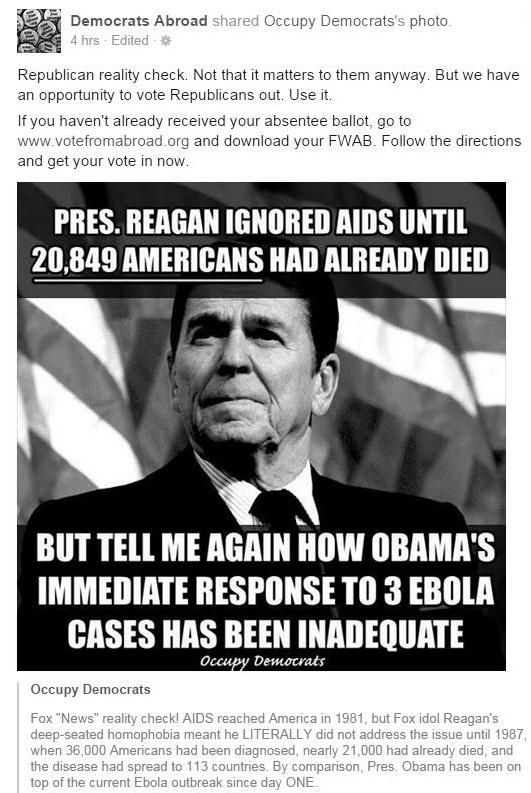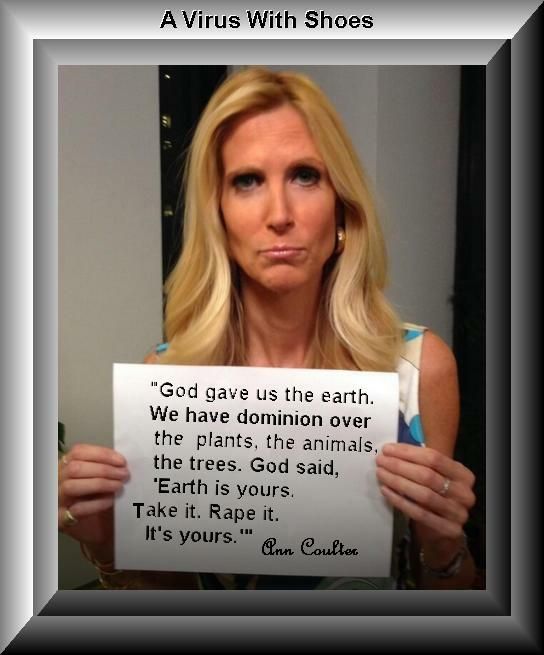 PS: To be fair, not all people fall into the selfish and un-thinking category of the above ignoramuses who have had the nerve to call themselves humane... This video on NBC's Nightly News Broadcast gives a glimpse into humanity's goodness. thinkingblue
American Woman Helps Forgotten Liberian Kids
Nightly News: New Jersey native Katie Meyler left her home to care for Liberian orphans in a country where she says people aren't only dying from Ebola, but also from hopelessness. Published October 18th 2014,
ARCHIVES
Rand Paul To Make Abortions UNSAFE!
Tea Party History 101 - 2 Easy Lessons
Trayvon Martin Case Proves Bigotry
Not Human! Picture of the Day.
Bring Back Paula Deen Facebook
Trayvon Martin Would Be Alive Today
Paul Ryan Health Care Destroyed
GOP to See Poor Children Go Hungry.
Impeachment? It's Silly to George Will
GOP Tea Party Cretins Jump The Shark!
USA Leads In 1st Day Deaths for Newborns
Tea Party NRA's Dance On Graves Victims
Enlightenment Led To The Holocaust
Coming Out To Higher Consciousness
Fanaticism Winner - Common Sense Loser!
Look What Dropped In On Facebook Wall
Study and Remember These Faces
The GOP Afraid Of Gun Control?
Marketing's One Motivation - Sell,
Sell.The Right To Vote, A Long Hard Struggle.
Asteroid Close Encounter With Earth
Ted Nugent - A Real Piece of Work (shit)
Mayors Against Illegal Guns Bowl Ad
Common Sense Gun Laws of Japan
Violence Against Women Act Expires
Republican Hypocrisy Rides Again
Newtown Massacre of Little Children
Obama To Give The GOP A Lollipop?
GOP Acts Out The Terrible Two's .
The GOP's Hands Are Quite Busy
Strong Segregationist Strain in U.S
Lloyd Blankfein, Ebenezer Scrooge
>live without becoming an old jackass.
Read Agenda 21, Glenn Beck's novel?
Democratic Socialism Scare Ignorant People
Accomplishments of President Obama
Mitt Romney's Halloween Special
GOP Tea Party The American Taliban
Bruce Springsteen to Join Obama
Serious Reasons To Vote For Obama
$$ Mitt Romney Style $$
Hey Mitt, Can You Handle More Truth?
Mitt, A Dose Of Truth, Can You Handle It?
Scalia and His Cobweb Thinking
David Letterman: "Romney's Yellow!"
Is Romney's Brain About To Blow?
Creationism – The Study of Darkness
Romney's Success vs. Romney's Greed